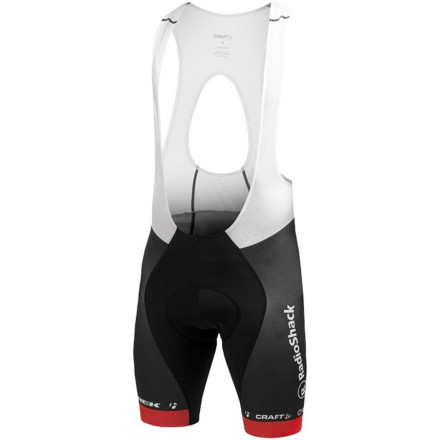 Community Images
With the exclusive branding of a top tour team, the Craft RadioShack Nissan Trek Elite Bib Short packs many of the design features that make them a preferred choice of some of the best riders in the world. But, the best part is they'll save you a good chunk of change over their pricier counterparts so you can upgrade the rest of your kit, too.
The upper bibs are made of an ultra-light polyester mesh with hexa-channel fibers to increase the external surface area, providing additional space for moisture to evaporate. The shorts are made of polyamide and elastane, giving them a light weight, great moisture management, and the muscle compression you need to withstand brutal efforts and road vibrations that seek to drain your power. Smooth, flatlock seams ensure that you won't experience chafing over long rides. Taped, elastic leg endings keep the shorts in place.
Craft improved their entire line of pads for 2012, and the chamois found in the Elite Bib Shorts has been completely revamped. It has a refined anatomic cut and features high-density foam with exploded bubbles that allow greater airflow. No film or chemical addition is used when combining the layers of the pad, which also enhances breathability. Gel injections in the sensitive sit-bone and perineal areas dampen harsh road vibrations. Rather than using a 'one size fits all' approach, Craft tailors the Elite chamois in three different sizes and densities; the X-Small/Small bib shorts get the smallest and least dense pad, the Medium/Large shorts get a slightly larger and denser chamois, and the X-Large/XX-Large shorts get the largest and densest pad.
The Craft RadioShack Nissan Trek Elite Bib Short comes in sizes X-Small through XX-Large.
What do you think about this product?
Have questions about this product?
Easily the best bib I've worn. I've ridden Castelli, Assos, Pearl, Capo, Giordana, Champion System, Voler, and Primal. The compression is ideal, the leg grippers are a gel and don't crack with the expansion of the fabric, the straps are comfortable, and the pad is comfortable, but not obtrusive. The pad, in fact, isn't noticeable when in the saddle. I'm 6'1" and 165, and I'm in a medium(I have skinny legs).