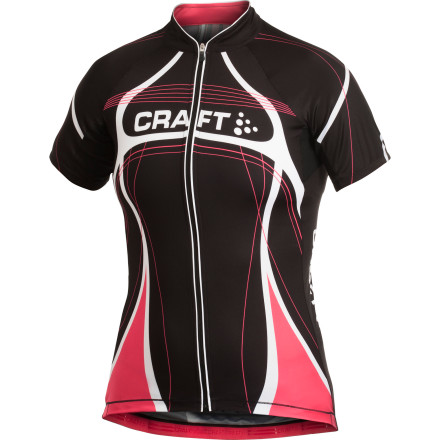 Detail Images
Finding a well-fitting jersey is easy with Craft. Their Women's Performance Tour Short Sleeve Jersey neither flaps in the breeze nor breaks a sweat in the pursuit of all day performance and comfort.
The comfort side of the equation is that when you feel comfortable, you're going faster. So the fabrics used, mostly C167, a wicking elastic fabric that is woven with a tetra-channeled thread, are soft on the skin. It feels good, both when standing still and sweating buckets. Aiding in this process are the C102 mesh underarm panels. The jersey is patterned on an ergonomic form that fits great in the riding position; notice how the neck hole is longer in front, how narrow the shoulders are, how short the sleeves are, and how the side panels curve. You may feel a little bunching standing upright, but on the bike, the fit is precise. The jersey is fairly long in back and has a slight flare at the bottom, so there is little chance the jersey will run up, as you sometimes see with poorly-fitting tops. The stretchy fabric also helps the fabric conform to your body, which means you're free to move in any direction and it doesn't flap in the wind.
With three deep pockets and a fourth zippered pocket, there is room for lots of gear. There are even ports so personal communication devices can be routed up the interior of the jersey. Making sure everything stays in place is a silicone print under the rear waist hem; it sticks to your shorts and complements the snug fit. The de rigueur full zipper is hidden for aesthetics.
The Craft Women's Performance Tour Jersey comes in sizes from from X-Small to XX-Large.