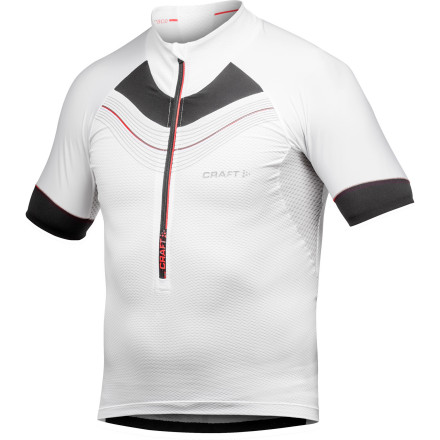 Craft made its Elite Jersey to keep you comfortable and cool for all of those warm-weather rides that await you this season. In addition to that, it features a 3D fit that smoothly wraps your upper arms and torso, meaning that drag never enters the equation.
The Elite Jersey was constructed from several of Craft's cooling, Hexachannel fabrics. The majority of the paneling is made from C505, a wicking elastic fabric that's woven with a tetra-channeled thread, which is soft and comfortable against the skin. This material rapidly pulls moisture off of the skin and transfers it to the quick-drying outer layer. Aiding in this process are the C107 mesh underarm panels. The shoulders of the jersey were hit with C506, as this material provides exceptional elasticity and moisture management. Craft used its 'bodymapping' technology to target areas of the torso prone to developing hot spots, and it incorporated panels made from these separate materials to further aid temperature regulation.
The jersey is patterned on an anatomic form that was designed to fit perfectly while in the riding position, and it's more aerodynamic than Craft's other jerseys. It was meant to fit tighter than your standard road jersey, in order to keep drag to a minimum. You may feel a little bunching while standing upright, but on the bike, the fit is precise. The stretchy fabric, elastic "wing-panel" construction, and silicone-backed hem help the jersey conform to your body, yet still provides you with a full range of motion.
With three deep pockets (and an additional zippered) on the jersey's lower back panel, there is plenty of room for additional clothing and nutrition. A 3/4-length zipper rounds out the top, along with reflective print that keeps you seen by motorists in low-light riding conditions.
The Craft Elite Jersey - Men's is available in sizes X-Small to 3X-Large and in the colors Focus/black and White/black/bright red.