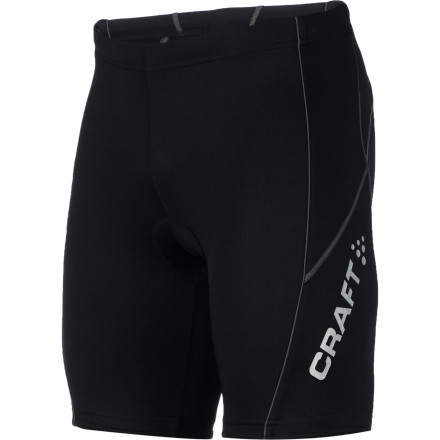 Detail Images
The best tri shorts hide lots of technology behind a fairly simple look. The Craft Men's Active Tri Short fit into this category. We can talk tech all day, but the proof is at the end of your most brutal brick workout, and translates nicely to race day.
The paneling works great not only for cycling, but swimming and running as well. The flatlock stitching is barely noticeable and won't chafe, controls stretch, and is durable to boot. There's a drawstring at the top to customize the fit. And for those long workouts, there are two mesh pockets in back. Silicone grippers hold the 20cm long legs in place.
Inside, the men's-specific chamois is light, narrow, elastic, and one-piece, all essential elements for working out both on and off the bike.
The Craft Men's Active Tri Short comes in Black. Sizes run from XSmall to XLarge.