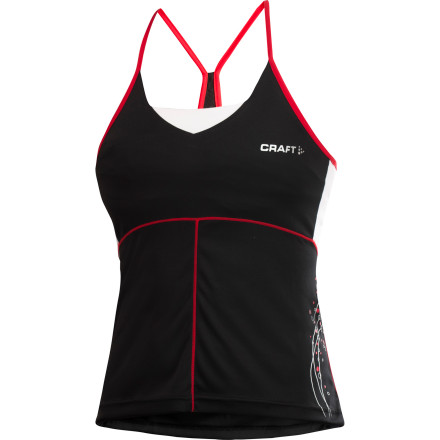 There are days when riding is about an easy spin to a park to relax in the grass. The Craft Women's Active Tank Top is for those days. And for the gym days when you're going from spinning to yoga to sauna. And for the riding days when you need something for support but yet want be presentable without seeming too hardcore cyclist.
Yes, this tank top can get a workout with your workouts. It should. It is great as riding piece, an exercise piece, and sporty social piece. This is because it can excel doing all three. Sure, it features spaghetti straps, but they're combined with a built-in bra so that the support is coming from the garment itself. The straps join in the middle of the back for great freedom of movement. Mesh is carefully combined with stretch fabrics to both breathe and protect at the same time. This top is also discreetly cut longer in back for riding and downward facing dog. And whether you're riding or wearing pocket less bottoms, you'll have the nearly secret zip pocket on the right rear for stashing wallet, keys, phone, and a bar.
The Craft Women's Active Tank Top is snug on the top and flares as it descends. The Craft logos are reflective. Sizes run from X-Small to XX-Large.