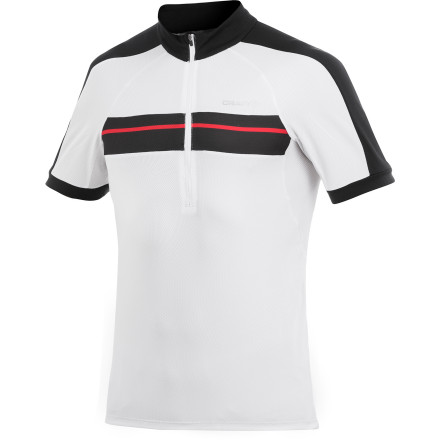 We all want to be sporty. We all want cycling clothing to feel right when riding. Craft's Active Classic Jersey for Men brings a sporty style, bridging the gap between race and casual, to a loose-fitting jersey that is cut for riding.
The majority of the Classic is made from Craft's C540 fabric, a soft, knit fabric that wicks well and stretches easily. Think t-shirt comfort with great wicking. The underarm panels are made of Craft's C134 mesh for improved ventilation in this high-perspiration area. The zipper is a 1/3 zip, which is good for venting and is also good when riding low as the fabric in front won't bunch as a result of a full-length zipper. It's also easier to explain to your non-riding friends.
Three pockets in back carry plenty of gear and hide a central zip pocket in the middle for valuables. The pockets are anchored via a silicone elastic sewn under the waist hem in back. Craft logos in front and back are reflective for better visibility.
The Craft Men's Active Classic Jersey comes in three colors. Sizes run from XSmall to XXLarge.