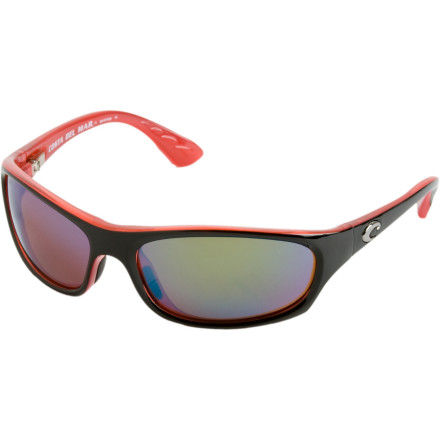 Detail Images

Community Images
In the new Costa Del Mar Women's Maya Polarized Sunglasses, you'll notice incredibly clear vision, right after you notice how good they look. Whether you spend the day on the water, relaxing in the sand, cruising in a convertible, or high in the mountains, your eyes are protected and visibility is dramatically enhanced with the Maya sunglasses.
580 Glass lens provides the clearest visibility through maximum yellow light reduction and dark color enhancement
Polarized lenses drastically reduce glare and provide 100% UV protection
Spring hinges mean these shades retain their shape and snug fit, even if you wearing them up on your head
Durable, lightweight nylon frame resists breakage
Maya Costa Del Mar Sunglasses
I love these glasses, they look great and are very comfortable. I have three other pair of Costa glasses and these are my favorite, I wear them everywhere. The ordering process with backcountry.com was great and I received them exactly when they said I would. I would like to add that I choose true to size as far as fit because I they fit me perfect but on someone with a larger face they may run a little small.
Hi. This company is a serious, responsible business. An error during the shipping of my order made the item miss the deadline as a birthday gift. After contacting Backcountry, they took responsibility promptly and made arrangements in favor of client satisfaction. I appeciate this.
I do a lot of stream and river fly fishing...
I do a lot of stream and river fly fishing and am looking for good sight fishing glasses. I looked at the Costa site and they have 4 lenses that might work for my application. Two listed for "sight fishing" and one listed for "freshwater" and another for "rivers and streams". What is the difference? Which to choose?
It is really personal preference and they try to break it down to which fishing activity. I prefer the blue or green mirror lenses and they seem to be an "all around" good lens.
Best Answer
I would say go with blue mirror. I work on the water I am a full time Head boat captain and I have the green and the blue but the blue i wear a lot more. They deflect the light way more. I wear the green when I run the boat in fog. which is not often.
An avid fly tyer, I thought the only glasses I might be investing in this year would be magnifiers. Instead, I was grateful to receive a pair of Costas for Valentine's day (who said romance is dead)! These shades are cute, light and really very beautiful. I will be taking them on their first fishing adventure this weekend on a search for trout. Any angler knows the importance of polarized glasses, equally critical is style though - that's why I wear Costas! I have them in the salmon and white with amber lenses.
I'm a pilot and was looking at the maya...
I'm a pilot and was looking at the maya style of Costa's at a store the other day. I couldn't decide between the grey and green mirror. Also I couldn't decide on the glass or poly 580 lense. What would be the advantage of the one color over the other and also the glass over the poly lense material. Would another color of lense be better for flying?(Glare reduction and clarity of clouds and objects on ground.)
Adam,
Costa typically markets their glasses towards people who fish. If you click on the size link in the upper R corner under options, you will see a description for each lens color. For off the water use, either lens will offer very similar results. From a fellow pilot, I have an older pair of Costas with interchangeable lenses and I love em. I use the gray lenses for sunny conditions and switch to a yellow lens when flying daytime IFR or VFR with overcast skies. Both lenses offer nice clarity and I have found no noticable issues when trying to spot traffic above or below. If you have the time, check BC for a pair that offer interchangeable lenses for high and low light conditions, you wont be disappointed.
I just bought a pair of these mayas in tortoise frames with the blue mirror 580 lenses which is a great looking combination. Even though they are labeled as womens sunglasses there is nothing that keeps a guy from lookin great in them. I just took a trip down to charleston SC looking for tailing reds in the flats and these sunglasses performed very well. I have a pair of Ray Ban polarized sunglasses and the costas definately have a step up on them. They look great and perform even better. Awesome pair of shades.