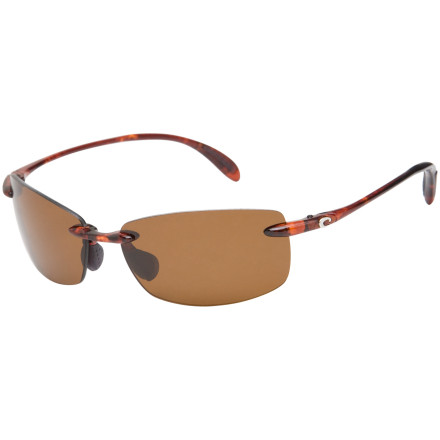 Detail Images
Say goodbye to heavy sunglasses that weigh down your head after a long day on the water—the ultralight Costa Del Mar Ballast Polarized Sunglasses feature shatterproof polycarbonate lenses in a sleek, rimless design. Whether you sail, fish, ski, or just live to get outside, the Costa 400 polarized lenses eliminate glare and increase surface detail—a crucial asset whether you're spotting bonefish in the flats or zipperlining Bubblecuffer's icy bumps. The Ballasts are perfect for getting after it, but if you think these Costa Del Mar shades are sport-specific, take them for a spin around the beach bar or on the lodge deck, and catch the admiring glances they receive.
Very light, great lens, comfortable for long term wear. I take very good care of my eye protection, if you do not, get heavier frames.
great lenses, awful frame
I bought two different pairs of Costa Del Mars, a "George" and a "Draft", both with polarized lenses. The lens quality is quite high, in the same conversation (although not quite as good) as a pair of Oakleys. But the frame is awful. Very specifically, the screws are awful. They snap right in half with any kind of pressure on the frame (such as leaning on something lightly with them in your pocket). I've broken both the nose screw and the screw on the side doing this. I'm done with the glasses from now on, even though I like their appearance.
I have bought three pair of cdm ballast sunglasses. They are wonderful in all aspects. You get what you pay for.
EVERY PAIR OF CDM I'VE BOUGHT HAVE FALLEN APART AND HAD TO PAY AS MUCH AS I BOUGHT THEM FOR TO GET THEM FIXED! THE LENSES ARE NICE BUT MINE FELL APART WITHIN 3 MONTHS... TOUGH DEAL FOR ALMOST 200$