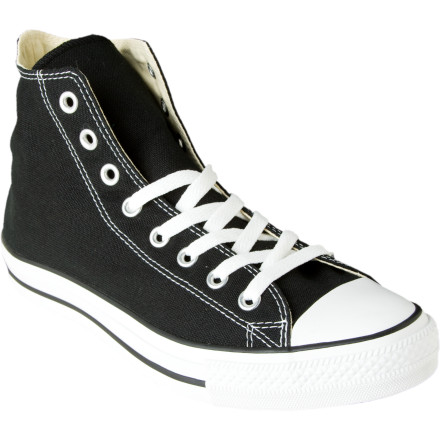 Detail Images
Description
Oscar really was a grouch.
You don't have to know how to tie your shoes to appreciate the Converse Kids' Chuck Taylor All Star Hi Shoes. The classic styling evokes memories of vintage sesame street episodes, and good old Mr. Rogers and his sweaters. But really you should just teach your kid to tie his shoes.
These shoes run extremely large. I am a women's 5.5 and sized down to a kid's 3. The kid's 2 wasn't wide enough for me and fit like a women's 5 (just a bit too small). Overall I am very happy with my purchase and the product came just as pictured.
bought these shoes for my 8 year old nice, she loves them , they are very comfortable . Wish they had more colors to pick from.
Got a pair of the red ones for my older nephew and he was very pleased. Great summer shoes.
Don't care what anyone else thinks about Chuck Taylors I absolutely love These shoes and will always recommend them. Especially The Monochrome Blacks!!
looking to get these for my nephew .. but...
looking to get these for my nephew .. but he's only an infant .. not really familiar with kids sizes .. how small is a size 1? too big for a 6 month old boy?
You would need to go with the infant style but I'm sad to say they are currently not on the site. This will be something we will look at for in the future. We do have infant shoes on the site. Check for Vans, DC, and Etnies. There should be something for you there.