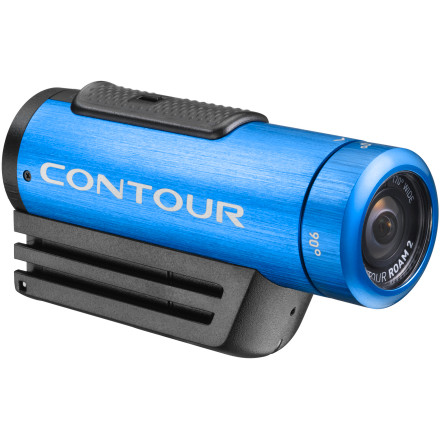 Detail Images

Community Images
Contour took its popular Roam helmet camera and massaged some new features into it to create the Roam2 Camera. The Roam2 has the same tough-as-nails camera platform, but now it features new colors, improved video quality, and the capability to shoot video up to 60fps at 720p. Attach one of the many mounts to your handlebars, board, or boat, fire up the built-in laser level to get your angle just right, and flip the massive, lock-on button in place. Soon you'll have all the gnarly footage you need to become the next internet sensation???oooh, your mom will be so proud.
Metal case is fully waterproof to one meter without an additional housing

Case shape is streamlined and aerodynamic so it doesn't feel bulky on your head or act like a brick on the hood of your car

Locking instant-on record switch is dead simple and easy to operate with gloves on

Shoot at 60fps in 720p and get the cleanest slow-motion video imaginable

Choose from three different HD video recording modes and either a single still photo or a time-lapse mode that shoots from every second to every sixty seconds

Video settings can be managed with the Contour desktop software with your camera attached to your desktop computer via USB connection

Built-in microphone records in AAC audio format for crisp sound reproduction

Wide-angle, glass-element lens rotates 270 degrees so you can get the perfect angle and most level video

Rechargeable battery lasts up to 3.5 hours so you can shoot marathon bike rides, multiple B.A.S.E. jumps, or half a day of shredding in the snow

Built-in front-mounted laser helps you align and aim your camera for the perfect shot

Camera ships with a 4GB MicroSD card so your camera is ready to shoot right out of the box

Includes profile mount and rotating surface mount and is compatible with all Contour Roam camera mounts

A little difficult to figure out....
Familiarity:

I've used it once or twice and have initial impressions
But fun to play with once you do! Shoots high quality video, picks up good sound. Seems pretty durable. Stoked to play with it some more!
not to shabby
Familiarity:

I've put it through the wringer
If you dont want to look like a teletubbie out on the hill with a Gopro this is the next best option, with things only looking better for contour in the future are they progress once again with the 3. im excited too see quality get better etc. but this thing is great bang for the buck
Low profile, best look in a helmet cam
Familiarity:

I've put it through the wringer
I've used this camera for the past year and I love how versatile it is. I've never used a case as it is waterproof up to a meter deep. Pretty sure I've gone deeper with it jumping off cliffs into water and have had no problems with it's waterproofing. I like that you can mount this camera on the side of your helmet, or on top, and it has a much lower profile look to it than any other helmet cam that I've seen. It's super easy to use, one on and off switch and you are good to go! Keeping it simple so you don't miss the shot! Love the color ways and the Contour app is sweet to line up your shot and adjust the camera if needed. I've taken this camera skiing, mountain biking, climbing, cliff jumping, river rafting, and paddle boarding...it's gone through the wringer!!!!
Great camera for a once great company
Familiarity:

I've put it through the wringer
Love using my contour camera and enjoy getting out to film with it every chance I get. Hopefully will be able to pick up a few more while they are still in stock. Great camera to have around and be able to play with.
Contour has ceased operations as of August 2nd, therefore the 180 manufacturer warranty no longer exists, nor will there be product support.



I refuse to become a go-pro-bro... Time to buy an extra Contour while there are still some left in stock.
We have one of these at my work we use to capture some sick footage when we take people out for the weekend like caving and such. really neat and easy to use, simple point and shoot, but heads up, we put a case on our sometimes and there is pretty much no sounds
I bought this camera so I could take videos of my trip to Canada. Used it for the river rafting and was very pleased with what I recorded. I would tell everyone to buy this!
ROAM2 and HERO3 while snowboarding
BE SURE TO WATCH IN HD 1080P!

Here is me and my friends riding at the Eagle Point Ski Resort. I made the video for the memory since Eagle Point is pretty far from me to drive to, and I'm taking it easy because I'm shredding with injured ribs. The ROAM2 footage doesn't start till 0:49 second in. I'm using the ROAM2 with my goggle mount so it is a little shaky, and I'm using my HERO3 Black Edition on a GoScope pole.
Better than the original ROAM!
The ROAM 2 is better than the original because they have added a locking switch on the ON/OFF slide to prevent your camera from powering on and recording while it is in your bag or something. I just wish they added blue-tooth or wifi. If you want a basic model go with the ROAM2. If you want a fully functional awesome camera, go with the Contour +2, and if you want a completely versatile camera with the ability to change setting directly from the camera go with the GoPro HERO3. I use the HERO3 as my primary everything but head mount camera, and I use my ROAM2 as my secondary head mounted camera.
Does the battery from the older model...
Does the battery from the older model (contourHD 1080p) work in the Roam2 ?
Best Answer
You're not able to change the Contour Roam2's battery. Someone disassembled a Roam (http://www.chiphell.com/thread-573049-1-1.html), and I guess Roam2's battery pretty much the same. You'll have to disassemble by yourself to change the battery which might void the warranty.
big things in small packages
amazed by the HD quality and the sound. My buddies were impressed by the features as well. The Contour is very user friendly. One flip of the switch and your recording on the run.
lost my gopro so i got this. amazing quality especially underwater. check out my channel fpzjibing to see edits shot with this camera!
This camera is perfect! Could not ask for a better one! use it on everything from Ocean to mountains. Perfect for River trips, and amazing to get those perfect shot on the hill. Use it any chance i get! A must buy!