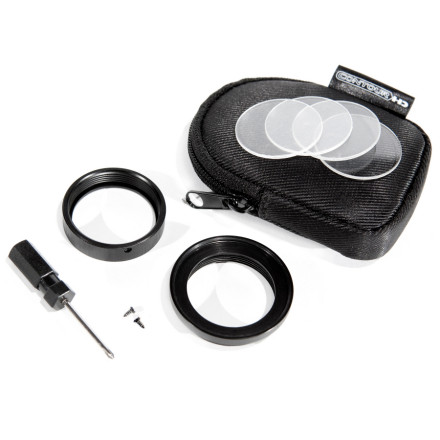 VholdR knows how gnarly you can get and that???s why the CountourHD Lens Kit exists. A replacement lens ring allows you to keep recording without buying a new camera while the lens adapter ring accepts standard 37mm lens filters so you can get the perfect shot in varying light conditions. Extra lens covers also offer protection after you???ve managed to scratch the others to hell. Use this kit for your ContourHD or VholdR Wearable Camcorder.
FYI: DOES NOT WORK WITH CONTOUR ROAM
Probably a great product but it will not work with the Contour Roam camera....check fit before you buy
So the obvious question that the description...
So the obvious question that the description fails to mention is what filters are included? Polarizer? ND? Please let us know.
It appears this item is a kit that contains extra lens ring, lens covers, and a lens adapter ring that will accept your extra 37mm lens filters.
I use my Contour primarily for skiing and the lens kit allows you to add ND filters to help block sunlight and keep the Contour from over exposing. The camera all by itself has a really hard time dealing with direct sun on snow, even if you properly adjust the internal settings. The ND filter (sold separately)just screws onto the lens kit when the light gets harsh and can be removed quickly if you enter shade or a low light environment. I have found that a .9 filter does a nice job and allows you to use this camera in a much broader range of light. The filter will also add as lens protection that can be easily replaced if damaged.
recommended but more needed
All camera should have replacement or protective lenses put in front of them. I purchased this item then used the size adapter included to place aftermarket UV protective and Polarize lenses on the camera. SO if something hits the lens I just have to pull off and replace the aftermarket lenses. The plastic lenses I would not use for they will scratch easily.
I purchased the 37mm rings separately and they just screw on; $4.00 each.