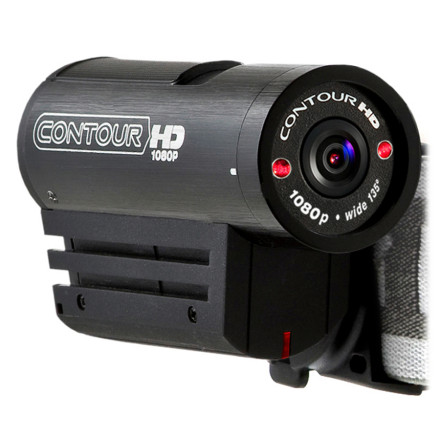 Detail Images

Community Images
Create your very own Full 1080p HD highlight reel and share it with the world. Face shots, cliff drops, road gaps, base jumps and everything in between come to life with the VholdR ContourHD 1080p Wearable Camcorder . You start off with 2GB of memory and 30 minutes of recording time in 1080p and can expand all the way up to 16GB for 240 minutes of mind-blowing sickness. VholdR techies respect the needs of video junkies everywhere and have added the ability to configure the video, light, and time of every shot you take. The CountourHD 1080p is water, impact, and vibration resistant so you don???t have to worry more about the camera on your head than the line in front of you. This camcorder has so many features we have torrents of saliva pouring from our mouths and can???t talk anymore. Look below and to the right for everything else you need to know-We???re on our way out to capture some epic Utah singletrack in 1080p.
Mount this sweetness on your goggles, handle bars, helmet, vehicle or anywhere else you can fit it using the goggle and flat surface mounts included with your ContourHD 1080p
At 4.3 ounces this is the smallest wearable HD camcorder in the world
Slide a switch forward to record and back to stop-Finally, one touch recording and no more fumbling
Use the easy edit software to configure your ContourHD 1080p- Choose from high, medium, or low contrast; adjust your exposure from -4 to +4; select spot, center, or average metering; and adjust the gain of the microphone
Easy Edit Software is compatible with MAC (10.4, 10.5, 10.6) and Windows (XP, Vista, Windows 7)-Video is transferred to computer via USB
Use the 180 degree rotating lens equipped with a dual laser alignment system to line up your shots
Uses a removable lithium-ion battery with a record time of up to 3 hours that can be recharged via USB to computer charger included in 4 hours- Wall chargers sold separately
Included in the box are your ContourHD 1080p camcorder, a 2GB MicroSD memory card, goggle mount, flat surface mount, rechargeable battery, and USB cable
Did Not Work Out Of The Box
Very disappointed. Did not work from the start. Very disappointed since we were hoping to use on our ski vacation.
Unanswered Question
I'm thinking of buying this for my 13 yo...
I'm thinking of buying this for my 13 yo for christmas. I also need some editing software (inexpensive!) Recommendations? I don't want to get the wrong kind (pretty ignorant about this sort of thing...
Quick ride on the Corinth Trail with ContourHD, multiple angle views (top, fork, rear) using the Contour Flex Strap. 1280x720 (60fps) exported at 30fps using iMovie x624 codec.
Erwin Park, ContourHD 1080p
1280x720 60fps, exported from iMovie 30fps using x624 codec.
I was disappointed in this camera particularly because there is no way to review what has been shot without taking it home and hooking up to a computer. Too late to re-do then.
Also almost nothing for instructions in box.
Does this come with any mounts or do I...
Does this come with any mounts or do I have to buy them separately?
It comes with a flat surface mount and a goggle strap mount.
Great camera...great price!
Crystal clear video...no motion sickness watching it! 2GB card is a bit small for my taste, but for the price offered here, no biggie at all. Very easy to use as well. Buy it!
I bought this on sale. It was a great way to get a camera without spending a lot. I was impressed with how well it works, mounts great on the side of my full face helmet and you do not even know its there. The video comes out great and the software with it is so easy to use.
if you can afford it get a GoPro
You get what you paid for. This camera is cheap at 137 and this camera is cheap in quality. the camera does not work well at night. the image was very fisheyed and tunneled. the resolution was not very good for "HD" the mounting system is a joke with no support to hold the camera from shaking, making your shots useless. it is light wt. and compact but thats the only thing going for it.
with two modes of shooting hi and low i didn't see a large difference, not enough to write home about.

My camera was returned because it was not recording after only two days of use. i used it to test it out around the house and the second time i did a helmet run and when i got home all my shots were not saved on my card. nothing would show up when just the day before my videos were on the 2Gb Card that it comes with.

i would not buy this camera again.
i say spend the money if you're going for action shot camera and get a go pro camera better mounting system, better resolution, and play back feature on camera.
For the $, you WON'T beat it!
Let the GoPro v. Contour debate rage. Each has there own particular set of positives, and negatives. I will say, with some degree of certainty, that the Contour HD is pretty much all you'll ever need.
It's slimmer, lower profile, and much easier to use than the GoPro family.
I bought the XL handlebar mount and the vented helmet mount. Both work perfectly.
On the helmet, it's hardly noticeable. The weight of the unit is minimal. The beauty of the Contour paired with the vented helmet mount is the fact that, because of the adjustable lens on the camera, you can use almost any of the vents to mount the unit. I ran it on top the first time, then mounted it lower on the side vents after that. Worked perfectly.
As shown in the pic I posted, The XL handlebar mounts works great as well. I ran it yesterday, expecting the video to be a bit shaky...it wasn't. The image is 'stabilized' per se, but it was still pretty damn smooth, even though I was banging down a dirt road on my CX bike.
I did have a slight technical glitch that was ZERO fault of the camera. My el cheapo, 3 year old laptop didn't seem to have enough cajones to process the video.
I posted on the Contour message board and had an answer with hours. I followed the directions, and downloaded the suggested software. Perfetto!
I also came to the realization that running the playback through Quicktime eats processing power. A quick switch to WMP and the video ran smooth like butter on a bald monkey.
For $140-ish bucks, it's really hard to go wrong here. Even with the 16gb SDHC card, and the extra mounts, I still dropped less than $200. Beat that GoPro...
Price is good but it comes with a 2Gig micro SD card which is only good for about 30 mins of video. The other issue I noticed when I got the camera was that the video is slow on the "hi" setting. The audio is normal but since the video is slow they are not synced and it looks like you are just going super slow. Even after upgrading to the 16gig card with a "10" rating its still slow however, on the "Lo" setting it works like a charm. Super clear video without any blurr, its easy to operate with gloves on, the laser beams are actually quite helpfull when making sure its aimed properly, and the rotating lens is a nice touch. If the video worked on the "hi" setting I'd have given it a 4 star rating and if it had better low-light video quality I'd have given it 5.
I don't know what Andrew Mclean there is thinking (no offense man), it is NOT the HD wearable camera of choice (but that's just my opinion I guess), that title goes to GoPro (more user friendly, more rugged, better video quality), but for under 150 bucks!?!? Hell yeah! I have a lot of experience with both (contour/ GoPro) in many different arenas, but primarily skiing and snowboarding. The contour is manageable once you figure it out, it's rugged enough for most uses (don't ski in the rain with it folks. You know what, just don't ski in the rain period, it blows), and the video quality is pretty darn good (audio sucks). You can't even get this for 150 bucks at an R.E.I used gear sale, much less $137.99. Get it if you don't have one so you can document your gnarlyness and impress the ladies (or dudes) with your epic adventures. Hell, buy two!!
does it come with the goggle mount?
does it come with the goggle mount?
Was debating between the Contour and the GoPro. Between the better mounts and price I chose the Contour and couldn't be happier. Haven't had a chance to use it in the snow but used it on a backpacking trip and took some great video. Get a bigger memory card and you are set!
I was using a friend's gopro last winter season and was on the hunt for it when I found the contour HD 1080 on sale and decided to purchase. So far I am very pleasantly surprised and actually prefer it to the gopro for a few very important reasons: 1. Form factor: the contour is rounded and a bit thinner than the gopro w/ case, which made it a little scary to carry in my pocket. It is also easier to hold in your hand and feels less bulky on the helmet…unless youre like that crazy guy using the waterproof case for snowboarding (not necessary) 2. Useability: the record switch is much much easier to use 'in the field' than the button on the gopro.

IMO, the gopro has some advantages over the contour (for ex/ it can take still shots; picture quality seems a bit better-warmer picture; totally waterproof, whereas the contour is water resistant sans the optional case…but again, in terms of actual use, it is my opinion that the contour works better.
Bought it for my husband. He is very happy with it. Easy to set up and use. Makes crystal clear video. Only draw back is lack of view finder but the laser dots worked well enough for set up.
At this sub-$150 price this is a great deal. I purchased one for mountain biking & skiing. The video looks great & smooth if you have the unit mounted to a decent hardpoint. One of the tests I use for determining video quality is how well the cam adjusts back & forth from light to dark conditions while going fast such as riding downhill in wooded/ridge sections where you are in the dark of the trees one second & then the next you are exposed in direct sunlight. I think the Countour 1080P handles this situation very well. The colors look great too. My opinion is that the colors on the gopro are never saturated enough with a washed out look. The Contour colors are vibrant & pop. Plenty of mounting options. Since there is no viewscreen it took two rides to get the level thing worked out so my POV is where I want it, but the dual laserbeams on the Contour make finding the sweetspot pretty easy. 135 degree POV is nice, better than I was expecting.
Hope yours works better than mine.
My problem is due to a number of factors.
1. Camera I purchased was not working properly.
USB connection to several computers not possible, I could not get to settings in camera that required it.
2. Expensive RMA process due to paperwork charges, I live in Canada.
I should have bought it where I lived, even it it cost $100.00 more.
Thanks
A lot of first time posts
After reviewing the feedback, I could not help but wonder the majority of the positive feedback was from people with (0) next to their name. The ratio for first time posts for one product is uncommon which makes me think they are fake. Can BC confirm any of the names associated with the product actually bought the product?