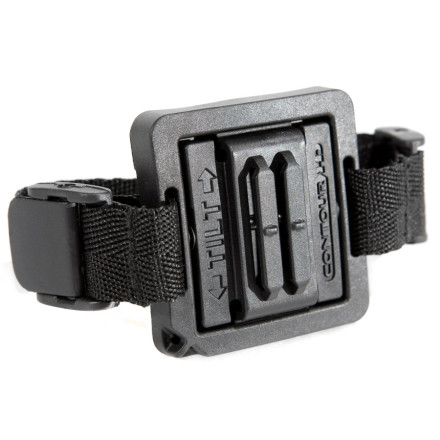 Detail Images

Community Images
Take advantage of your vented helmet to mount your Countour camera with the Vented Helmet Camcorder Mount. Pinpoint your mounting location, slide the straps through your vents, cinch them up to secure your camera, and tilt the camera forward or back to find the best angle.
I bought this mount to use with my Contour GPS while mountain biking. This mount is very versatile. I have mounted it in several locations on my mountain bike helmet for different shots. The strap system is designed for flexibility. There is a tilt feature that allows for customization in the fly as well. I also use it with the Connect view chip and my iPhone to line up shots perfectly while wearing the camera.
Disappointed, unfortunately
I mounted this to my helmet 4 times, the fifth time the stitching came undone rendering it useless. So, I had to stitch it up myself to use it.



I wish I could return it, but it has been 70 days, ugh. It was pretty good, until the stitching came out.
This is a great addition to your Contour camera if you wear a vented bicycle helmet. It is easy to adjust, is very stable for solid video. You can quickly mount it on a friends helmet during a ride to give a different perspective and get yourself in the video for a change.
ContourHD Vented Helmet Mount Testing: Hurley Pass, BC
Testing out the ContourHD Vented Helmet Mount as well as the GoPro HD Chest Mount in Hurley Pass, BC.
ContourHD Vented Helmet Mount is Awesome
I've been using the ContourHD this season and loving it. I'm stoked on the Vented Helmet Mount - it is easy to adjust, transfer between helmets and super steady. I've used it on my Giro Seam, Smith Variant Brim, Giro Remedy and Giro Hex so far and it works great on all of them. I'd say it's a key accessory for anyone using the ContourHD and/or ContourHD 1080p.