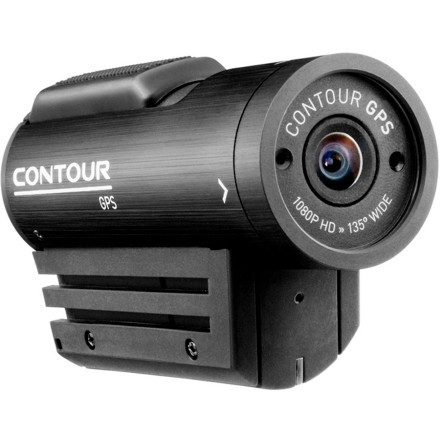 Detail Images
The hands-free Contour GPS Camera records cliff drops, road gaps, base jumps, and surf breaks in HD, and its built-in GPS unit tracks your location, speed, and altitude. The Contour GPS allows you to view your footage with the interactive map. Post your epic footage that afternoon using the one-click editing and Contour???s Storyteller software.
At 5.2 ounces, this is the smallest and lightest helmet camera with GPS tracking
Aluminum body is tough and water resistant so you don???t have to worry about powder face-shots or light ocean spray
Laser sighting and a 135-degree wide-angle rotating lens enable you to line up your shot
TRail mount system's low-profile design and smooth slide-and-lock mechanism means you can easily attach the camera your body, equipment, or vehicle
Easy recording with oversized record button
Omni-directional microphone captures sounds of your ride while alleviating additional wind noise
Multiple camera settings let you choose between full HD for the highest rez available, Tall HD for surfing, Action HD to reduce blur, Contour when you're almost out of card space, and Still Photo to freeze-frame the action
Upload your footage to any of the social networking sites or challenge your friends to a vertical challenge with easy-to-use Storyteller software and Contour community
Removable lithium battery provides up to 3 hours of record time and can be re-charged via USB cable (included) or a wall charger (sold separately)
Included in the box are your Contour GPS camera, a 2GB MicroSD memory card, flat surface mount, goggle mount, rechargeable battery, and USB cable
vierd
Familiarity:

I've used it once or twice and have initial impressions
I Bought the Contour GPS, and was having pretty high expectations.

I was gonna use it for Airsoft filming, in Denmark, within the current temperature rate of 01-10 degress Celcius.

But my contour wont turn on. The red light in the buttom, lights, but it doesnt go any further from that. I took the camera home, and when it was warmed up, it started without a problem.

Brought it back out, the following day. Same thing happend again when the camera became cold.

As an action Camera i thought it would work no matter the enviornment, but if it wont even work above the freeze point, how could i ever be able to use it Fx. during a ski-trip ?



Im not really satisfied with my product.
Going catamarans on the river with rapids....
Going catamarans on the river with rapids. Would it enough water resistance ability, supported by contour gps?
if you got the waterproof cse then yes
The video quality of the contours is great. At first I had issues with it dying on me but quickly realized that the SD card was filling up. I upgraded to a 16gb SD card and havent had any issues since with the camera shutting off. The quality is very good. Since upgrading to the new SD card I haven't been able to get the gps function to work even though I formated the card and took the battery out like the directions state. Minor setback that I will figure out soon. I would definitely recommend this product.
Unanswered Question
dose the GPS tell you how fast you go
dose the GPS tell you how fast you go
Does Contour Camera have cycled recording...
Does Contour Camera have cycled recording feature?
this camera is pretty good, it does have a few flaws though. One the GPS doesnt lock sometimes, so its a waste of your battery. But when it does lock it actually is really accurate. Its only water resistant so you have to get a waterproof case if your using underwater. It can stand up to snow, mud, and ect. Without the case. The footage is really good, in 1080. If you don't like the go pro, or think its to hard to use get this. It is super simply to use. One slide button and your recording. Also through Bluetooth you can connect with your Iphone, Ipod, Ipad, Or android phone, to see what your angle is if you need to move the angle you can see what you need to move it too. Works great, if you want an alternative to a go pro get this you wont be disappointed.
okay, so my boyfriend is a total kayaking...
okay, so my boyfriend is a total kayaking freak and we are going on our third anniversary, and i am torn between a go pro and now the contour. which one is more kayak friendly and what does this one come with mount wise ( i noticed that on the contour site they list what comes in the box, does that carry over to this site also)?
Yes it does you get everything it says you get on contour.com. Which is two flat surface rotating mount, the contour camera, the rechargeable battery, goggle mount, 2GB SD card,and the USB cable. I hope this helps.
This camera is pretty sweet but there are a couple of minor improvements that I think could still be made. Number one, the GPS is totally overrated and basically a battery suck. After using it two or three times I haven't turned it on since due to the amount of battery it wastes. Carrying multiple batteries is a must if you plan on being out all day and unfortunately I lost my spare the second day out so I've had to figure out a system to max out my battery throughout the days. The other issue is the flat lens on snorkel days. You can hit the sickest line only to get to the bottom and find snow completely covering the lens. I think the GoPro has the better lens design but overall the GoPro kinda makes you look like a muppet whereas this is much discreet on the side of your head.
I've had a Contour GPS since they came out and have had to do several firmware upgrades during the time I've owned the cam. The software Contour provides automatically detects if you need an upgrade. My cam works great, the video is awesome, but I have actually not taken any stills so can't comment on that.
The Water proof case did take a while to come out but I use my cam for skiing and biking mostly so don't need the case for under water use although this summer I'll get one for Supping.
The new connect view bluetooth app is really cool too although it did have some bugs initially but had been working fine since the last firmware upgrade.
Terrible experience here!
Bought the camera this past winter with the expectations that the waterproof housing for it would be soon available. Well they kept on pushing back the release date for that. It eventually came (after the spring-runoff was mostly done) and the housing itself appears pretty good even if late.

It is then that I find that it takes incredibly bad still pictures. When I contacted Contour regarding this twice over the last few weeks the best answer I got was to wait until the new firmware comes out.

The video while not as bad as the stills is still leaving many grumbling:
http://support.contour.com/contour/topics/video_quality_of_the_contour_gps_disappointing

I recommend that users stay away from this unit and be careful of future Contour products until they have been well tested.
Contour GPS Camera with Connect View
With the addition of the Connect View Card the bluetooth in the Contour GPS camera turns your iPhone into a viewfinder!

Check the Connect View card out here:
http://www.backcountry.com/contour-connect-view

On Contours website, the new GPS HD camera...
On Contours website, the new GPS HD camera has bluetooth that can connect to a smart phone. Is this the model that you are selling for $349 or would that be a newer model?
Spence This is the correct camera; however, you do need to additionally purchase the ConnectView chip to put into the camera and download the app for your smart phone for it to work. It does not come ready-to-go-out-of-the-box for blue tooth.
It is only iPhone friendly, and that is after the purchase of the card. Us android users were told it would be coming but nothing has. And that is not the only problem!
We are getting closer on the android app to work on all the devices. The android app internally is working well but we're trying to get it to work on all the Android devices as they handle Bluetooth differently. Thanks.
We are getting closer on the android app to work on all the devices. The android app internally is working well but we're trying to get it to work on all the Android devices as they handle Bluetooth differently. Thanks.
Good morning, Is the contour GPS HD Camera...
Good morning,

Is the contour GPS HD Camera One Color waterproof, can take it into water 30 feet.

If not fit the contour 3300 Waterproof Case on this machine??

Best regards,
Raven
The Contour GPS camera is water resistant. So it is not submersible. It does not fit in the waterproof enclosure. That only fits the Contour HD.
We have a waterproof case out for ContourGPS now.
1. Did not answer the question, it is...
1. Did not answer the question, it is waterproof down to the water??
2. Is there a waterproof box around this type of HD GPS??
Hi Raven,

The Contour GPS is not waterproof; only water-resistant. Contour is currently designing a waterproof case that fits the Contour GPS Camera.
Great video quality, sleek design, GPS is awesome. However... The power button doesnt work worth a dam especially with any (thick or thin gloves), often times the lasers turn on and don't shut off, then the power button doesnt work, its like the camera is frozen. Hafe of the videos I have taken come out messed up, the files are corrupt or something because the video's come out way over exposed and are only 1 or 2 seconds. Maybe I got a lemon but im very dissapointed so far probably going to return very soon and trie a new one. If it worked it would be awesome.
Pretty good with a few bugs
The 1080p looks really good. The 720p isn't bad but does have some pixelation. I've tried the photo mode at one photo every three seconds and so far haven't had much luck. I'm using it snowboarding but it takes about 30 pictures to get one clear usable photo.
The storyteller software isn't really a true video editing software but I'm hoping it gets better or more applications start to use the gps data. I'm using Windows 7 and the Awesome button freezes my computer when I try to change the Awesome length.
I'm sure in the future I will be able to do more with the GPS data so it's good to start capturing it now.
I bought the Contour GPS HD Video camera. I...
I bought the Contour GPS HD Video camera.
I also bought the waterproof case that looked like it would fit, but does not fit the GPS models...only the HD Video camera without GPS.
Is there a waterproof case available for the GPS model?
Hi Corri. No there is not a waterproof case for the gps yet but it is coming soon! Keep in mind that the cameras are water resistant so as long as you don't plan on soaking the thing it will be ok.
Right out of the box I noticed some upgrades from the ContourHD
First, the ON/OFF switch is both easier to move, and raised making it significantly easier to flick on while its on my head. Also the battery/SD access door now has a lock on it preventing accidental opening. The third change is the mount included in the box. The camera comes with a new and "improved" mount which allows for easily rotating the camera while it is on, and has a lock to prevent it from rotating when you fall. Only after ripping the old mount off my helmet, and installing the new one, did I find the lock is a joke. It takes very little force to over come the lock and rotate the camera. For being such a bomb proof camera, I was expecting more from the new mount. On a side note, I had been concerned that a big fall would one day rip the camera off my helmet, after breaking a paint scraper trying to remove the old mount I am confident that will never happen.
The last change is a much needed upgrade to the cameras settings. The new camera has 2 programmable settings which are completely independent from each other, so I can have one setting for sunny days, and one for the other 99% of the time.
Overall I loved the HD enough to upgrade to the GPS. I am excited about the upgrades and being able to plot my video on a map, but really disappointed by the new mount. Include the old mount and this camera would get 5 stars no question.
Does the Contour GPS HD Camera still fit...
Does the Contour GPS HD Camera still fit into the waterproof housing? I noticed that the GPS version is 0.2 inches higher than the non-GPS model.
Best Answer
No. The waterproof case only fits the contour HD cam without gps. However a new waterproof case is coming soon that will work with the gps units.
Keep in mind that the camera is water resistant as is. It can handle snow, rain, etc. You just can't take it under water without the waterproof case. So unless you are surfing, kayaking or the like, you will not need the waterproof case.
HD Helmet cam with GPS, what next..
The Contour 1080 was and still is a sick cam but the new GPS takes it even further. The footage is still the great full HD from the Contour but now I can track my bike rides, get speed, distance, elevation all on a google map that plays along side of your video footage. Now you truly call your friends out when they say " I was going 60 out of that straigth-line", well actually you hit 40, nice try, but no 60. Great way to track and keep stats on your biking or ski/board season.
They also made some great upgrades on the back door hatch, and added a still photo mode. I have a perfectly good Contour 1080 but the gps offers some cool options to give you more info and proof of what your doing and where you are.