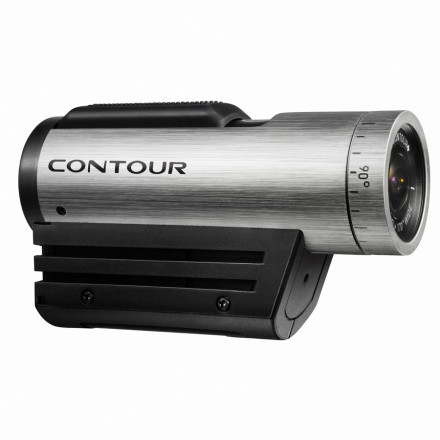 Detail Images

Community Images
The hands-free Contour+ Camera doesn???t just record all of your cliff-hucking, base-jumping, and wicked surfing skills in stunning HD; it also features built-in GPS capability to track the location, speed, and altitude of your every exploit. The Countour+ is water, impact, and vibration-resistant so it can handle extreme environments, and it also comes packed with so many features that you should prepare yourself for the inevitable streams of drool that will emerge from the corners of your mouth should you decide to read on.
The Contour+ is the only hands-free HD camera to offer live-action streaming, which means you can create a direct connection from your camera and broadcast live
170-degree wide-angle rotating lens option lends a stunning field of vision
Bluetooth-enabled connection lets you link the camera to your smart phone, tablet, or laptop for instant access to a viewfinder
HDMI port and microSD card allow instant replay on your smart phone, laptop, or tablet and ultra-fast upload and transfer rates
Storytelling editing software is compatible with MAC (10.5, 10.6) and Windows (XP, Vista, 7)
TRail mount system???s low-profile design and smooth slide-and-lock mechanism means you can easily attach the camera your body, equipment, or vehicle
Internal microphone captures sounds of your ride while alleviating additional wind noise and an external microphone jack lets you conduct interviews with precise sound
Uses a removable Lithium-ion battery with a record time of 2.5 hours, and it can be recharged via a USB link (USB cord included); wall chargers sold separately
Upload your footage to any of the social networking sites or challenge your friends to a vertical challenge with easy-to-use Storyteller software and Contour community
Included in the box are your Contour+ camcorder, a 2GB MicroSD memory card, three mounts, a rechargeable battery, a USB cable, a Mini HDMI cable, a microphone cable, lens cap, and a connect view card
Has a mix of various lighting conditions from skiing/snowboarding. Used with Right and Left Helmet Profile mount. Filmed primarily with Contour Plus with exception of a few pole shots from Contour GPS
Great little camera.

I picked the contour because I really like the form factor and didn't want a little toaster on my head while skiing. The contour has held up great so far and I have had major issues.

The only little problems I have had is you have be careful with the rear-door. I found on more than 1 occasion with gloves and what not I managed to flip the back door off and it was coated in snow after. No water issues afterwards though.

Great picture quality and lots of options for frame rates and resolution. I am still playing with mine to find out exactly what I want it at.

I do find compared to my friends GoPro's that they have a larger FOV. I wish the FOV was a little bigger on the contour.
Great product with great online support on tech queries. One improvement could be made: the back hatch comes open when switching the record button off. If the hatch opens to the bottom instead of to the top this problem could get eliminated.
Otherwise this is a fantastic product with unsurpassed image quality. Great job Contour!!
Bought mine and this happened .. just use caution for an expensive toy !
Let 'er rip........This product is great and like everything else it has a down-side, and that would be the rear hatch on the contour HD. For example, on mine it was defective, and failed prior to even using it in any practical application that I intended to use it for in Afghanistan.

The power-button failed and didn't line up properly from the manufacturer causing an indention for a small button inside the hatch to become ajar and finally break away completely.

Listen I am not complaining gto bad at all in fact BackCountry shipped me a new one that I paid in advance for a replacement for Christmas recording, so, my verdict is still out on this product. They definitely need to think about making this product a little more durable. I will say this BackCountry will have your back on any product they are truly the best customer service by far than any company out there in the USA. Kudo's to BackCountry.

Now ...... Contour great customer service but their reaction speed and attention to detail for someone who just bought their product brand new was less than appealing.

At any rate be careful with that back hatch, and be careful for some of the batteries that come with this product get stuck within the compartment I guess a good or a bad thing considering you either shake it out or sharp object it out ???

Hope this post helps !

Alan Quevedo
Whats the difrence betwen the other contor...
Whats the difrence betwen the other contor and this
Nothing probley, i have the roam and it doesnt have an editing program but i wanted a nicer editing program then a standard one from them anyways, plus its not worth 300 more extra just for that.
Unanswered Question
Whats the difrence betwen the other contor...
Whats the difrence betwen the other contor and this
Wasatch Crest Trail Edit Contour + Camera
Some highlights from riding the Wasatch Crest Trail this summer. Shot at 720p 60fps on the Contour+ Camera, Mounted with the vented helmet mount on top of Mountain Bike Helmet.
Contour + doesn't get any better
The Camera is doing everything great.
The video quality is sharp and crisp even at high speeds using the 1080P mode.

I used to have to use the 720P 60 fps setting on the older camera.
I would often get a little pixilation with out the higher frame rate when using the 1080P mode.

The GPS is tracking like it should and I am not loosing the data when I am traveling at a high rate of speed.
Now that you added a way to edit the GPS data to the video every thing is great.

The new design of the back door is a very nice addition now that you do not have to open the door for data cables.

The external mic is a neat feature as you can hear me talk to my self when racing the motorcycle(very cool).

You guy's are doing a great job and every one loves the camera.
Contour+ GoKart Sundown Showdown
Shot with the Contour+ Camera at 720p 60fps. Impressed with the quality of the raw footage - I didn't need to do a thing, just uploaded it straight off the camera.
I've been using the Contour+ Camera for about 2 months now and really like it. The Contour+ definitely gives any camera on the market some very stiff competition. The new, super-wide 170degree lens is a noticeable improvement especially when filming fast moving sports like mountain biking. The video quality is top notch. For any fast moving and/or bumpy adventures, I usually prefer setting it at 720p 60fps because the faster frame rate keeps the recording nice and smooth. For everything else, the 1080p 30fps setting is great. I highly recommend checking out the Contour+, it is excellent.
GunRAIL Non-Match Tactical Accesssory
As a Tactical Use item, this item is not matched with standardized Rail Mount Systems on Weaponry & Sporting items that normally accept optical, laser & lighting on a Sporting or Tactical pistol and rifle rail.
Unanswered Question
I want to connect the Contour Plus to an...
I want to connect the Contour Plus to an airplane headset input. Is there a single connection or is there an adapter?