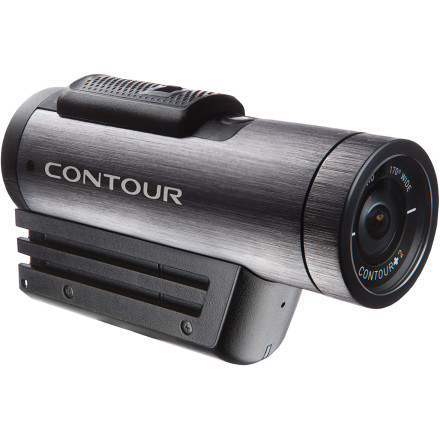 Detail Images
Instantly shoot crisp, clear HD video from Contour+2 Camera, and then use the mobile connectivity to review your video on your mobile device. You'll be able to overlay an array of data gathered by this camera's built-in GPS receiver and share the data on your favorite social media outlet. Besides the instant-on record switch, waterproof case, and external mic jack, this camera features settings that can be fully customized using the Contour mobile app. Mount this sucker to your helmet, handlebars, board, or go-fast-device-of-choice and make a scene.
High-definition recording makes the 1080p video clearer and crisper than ever

Built-in GPS receiver allows you to track speed, elevation, and distance and overlay this data on your video

Record switch locks into position and powers up the camera instantly

Mobile connectivity means that you can use your smartphone or preferred mobile device to change camera settings or preview video on-the-fly

External microphone jack further extends the capability to achieve extra-clear audio and mic gain can be adjusted via the Contour mobile app (separate download)

Adjust white balance, contrast, sharpness, exposure, and exposure metering via the Contour mobile app (separate download)

Four different recording modes give you control over video quality

Shoot at up to 120fps in 480p mode and make your slow-motion shots extra slow-mo

Rechargeable battery boasts a life of up to 2.5 hours depending on recording quality, temperature, and other conditions

Standard camera mount rotates up to 270 degrees so you can get the camera in any position you need

Includes a waterproof case that you can submerge up to 60 meters deep

Also included is a 4GB Micro SD card, profile mount, rotating flat surface mount, rechargeable battery, USB 2.0 cable, mini HDMI cable, and mic cable

Awesome camera
Gender:

Male

Familiarity:

I've put it through the wringer
I love this cam.

This is my 2nd Contour cam, 1st being the ContourHD and I really like the upgrades. Now all my friends ask me to get their speed down the slope and since I got 2 cams. I use the pole mount for my ContourHD to get closer and different angles while skiing down slopes or hitting the park.

It's really cool that it comes with a waterproof case.



The Contour cams are easy to use and with Contour+2 its even easier. just slide the button forward and you are recording.



I am much happier with the Contour+2 than the ContourHD due to the GPS and how much easier it is to use.



Got 2 friends with the GoPro cam and they hardly use it, I use mine all the time. Really like how easy it is to mount and how sleak it look on top of the helmet, and not being a huge box high up over the helmet like the GoPro.
Much, much better than the CountourGPS
Gender:

Male

Familiarity:

I've put it through the wringer
They have fixed many annoying things over the previous Contour GPS version which I actually returned to REI because I was fed up with it.



Improvements:



1) Battery life seems to much longer.



2) no stupid two button on off system. Now you just slide the record button and it turns on. Before there was this impossible on/off button that you could not easily get to with gloves on...so the battery would just die even though you were not recording.



3) GPS now actually seems to work. I could never get a fix before at the top of Squaw...not sure how that is even possible. Now 90% of my movies have a GPS track along with current speed and altitude.



4) Video quality seems slightly better...but then again the video quality for snow sports has always been awsome.



5) Waterproof case is now included.



All in all, I am much happier....and prefer the side mounting to the go pro which I think looks stupid.
user error?
Gender:

Male

Familiarity:

I've used it several times
now, I'm no warren miller, but the movies I made were pretty cool. they showed what I was shooting at and had pretty good sound pick-up. But after a year I'm losing the love... it feels like the novelty is wearing off. I probably am better on the other end of the lense.
Here is the CEO of Countour talking about the new Contour+2 camera.