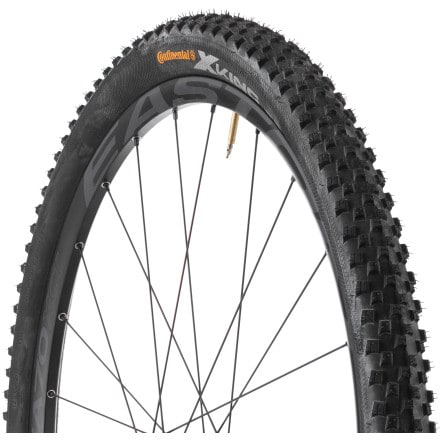 The Continental X-King 29 tire was designed for speed. The X-King pattern was specifically developed for fast rolling, whether for racing or just storming the trail at a rapid pace.
The X-King's ramped center knobs are lower than its hard cornering shoulder knobs, and their tapered shape makes them quick rolling. They are also offset from each other for superior braking and better traction than parallel knobs. On the shoulder of the tire is a column of knobs that are siped, which effectively splits the tread blocks into two, providing an additional biting edge and superior grip in wet conditions. The shoulder knobs are taller, for greater cornering bite, and they're stiff so they won't squirm when you lay the bike over around a hard sweeper on loose ground.
For those who find themselves in soupy conditions (i.e, anywhere but the Southwest U.S.), know that the 2.2" X-King pairs well with the yet-more-aggressive 2011 Continental Mountain King 29 2.4" as the front tire. If you do live where the soil is mostly loamy or you ride a lot of hard pack, roll with the 2.2" Continental X-King 29 tire in the back with the 2.4" X-King in the front.
The Continental X-King 29 comes in a 2.2" and 2.4" width with a 29" diameter. The casing features 3 plies totaling 84 TPI under the tread and sidewalls. The tire is foldable and comes in black on black. Claimed weight: 2.2" is 700g, 2.4" is 760g.
Application: XC Race / Trail
Ground: Loose, Hard, Mud