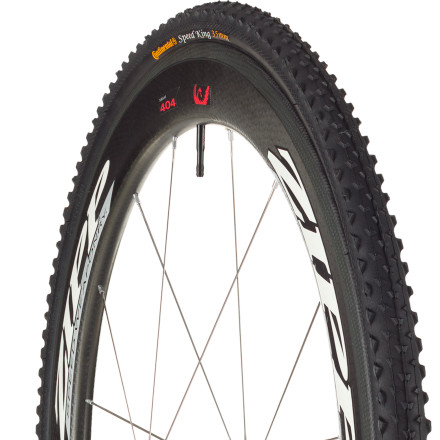 Detail Images
Cyclocross clinchers need to be durable; train on them on the road and off during the week, go in the pits on race day. The Continental Speed King Cyclocross Tire fits our definition of what a cyclocross clincher should be. Tough enough to last, a tread that offers up great traction, a casing that won't cut easily, and enough air volume to float over rough ground at low pressures.
The casing is made of three stout 28tpi layers that make up the overall 84tpi final construction. The tread is a neutral cyclocross design that can handle everything. Run it hard on the road and the center knobs won't be distractingly squishy. Drop the pressure for dirt and grass riding and the knobs dig in and then self-clean on their way out. The 35mm width gives plenty of volume for running low pressure when the ground is rough.
The Continental Speed King Cyclocross Tire has an Aramid bead and is foldable. Maximum pressure is 85psi. They say recommended pressure is 58psi, but we know we're going lower in rough conditions. It has a black tread and sidewalls. 700c only. Claimed weight is 450g.