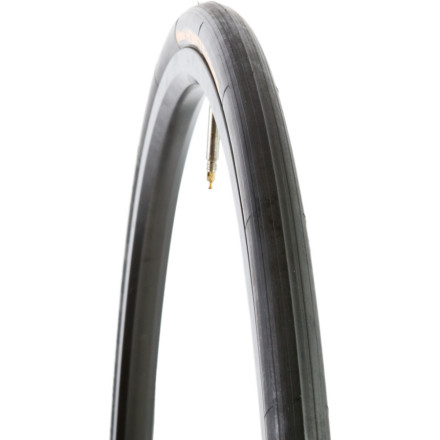 Description
Save your road tires for race day.
Putting down serious mileage on your trainer isn't just hell on your brain, it's equally destructive to your rear tire. The severe heat generated by the drums of stationary trainers or rollers devours the rubber and causes the tread to break down and the casing to split. Continental wants you to save your race tires for outdoor riding. For indoor workouts they've developed the Ultra Sport Hometrainer Tire. It has a cold running compound and a substantially stiffer casing than what you get in a GP 4000. It'll last all winter long, but make sure to take it off before you ride outside. Continental specifically states that it's strictly for indoor use. Available in 700x23 only.
The actual weight of the Continental Ultra Sport Hometrainer Tire is 292g.
Three-ply construction keeps wear to a minimum

84 TPI offers a real-road feel, even though you're on a trainer

Specifically designed for hometrainer use and NOT suitable for on-road use

Smart
Familiarity:

I've used it several times
In some areas of the country, winter is very real. To maintain fitness, especially bike fitness, the best option is to ride the trainer. But let's face it: rubber is expensive, and there's not much sense in wearing out your precious tires designed for traction and control at speed on various surfaces, when you're in the pain cave cranking away the hours Zwifting on your trainer. That's where these tires come in -- replace your tire to get set up for the winter, or put this on your trainer wheel, and you won't put needless miles on your good rubber. Smart.
Simple and smooth
Familiarity:

I've used it several times
I like things that work and this tire works very well. Its so much quieter and wears much better than a road tire. I mounted this to my old Bontrager Select wheel without any problems. With about 5 hours on the tire so far, it shows no wear and I can finally hear Coach Troy on the DVD player without waking up the kid.
Difficult to mount
Familiarity:

I've used it several times
We all know that tires can be fussy and difficult to mount at times but this one was darn near impossible to get on the rim. Was it worth the bruised thumbs and busted knuckles? Probably not.
So I was a little bent that I trashed my last set of tires using them on my rollers. So when I saw this, I had to try it out (bought a set when I bought my replacement tires). So far so good - quiet, stayed on the rims, good traction on the rollers and what not. I bit pricey for spares, but I like that I'm not trashing my road tires.