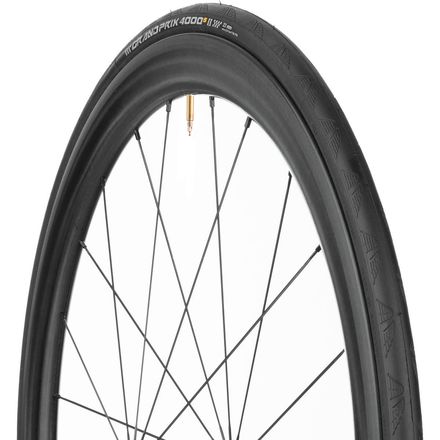 Colors

Detail Images
Description
More protection from punctures.
Continental's Grand Prix 4000 S II Clincher Tire is a step above the previous iteration. While it still uses Black Chili compound, Vectran technology was added to increase puncture protection.
The Black Chili compound has become well-known, and praised for its ability to grip varied surfaces under demanding conditions. This is possible because the particles of Continental's Black Chili, which have been incorporated into the rubber, are so small that they have a high density for the contact patch of the tire. They mold to the ground's surface which increases the area with which the tires grip. Additionally, the particles are highly flexible which reduces friction and rolling resistance. The Black Chili also reduces tire wear which, in turn, increases longevity.
Added to the 4000 S II is Vectran. This is essentially a micro-fiber, thermoplastic yarn that is made from a liquid crystal polymer. It is highly puncture resistant while at the same time being lightweight.
The Black Chili particles are also literally more flexible, which reduces the rolling resistance of the GP 4000 S II. The Continental GP 4000 S II is available in 700x23 and one color; Black/black.
Black Chili Rubber Compound
Vectran breaker
Folding bead
Very Nice and Smooth Tires
Familiarity:

I've used it several times
Very nice tires comfortable and smooth. Thanks Competitive Cyclist for the advice in selecting these tires. I'm very happy with my purchase.
tried and true
Familiarity:

I've used it several times
Have been on the 4000S for years and just switched to these. No real noticeable difference in ride, which is a good thing because I loved the older version too. Photo shows the white decals on the side of the tire which are noticeable but not a deal breaker.
Consistent all round tyres
Familiarity:

I've put it through the wringer
Have been running these clinchers and their predecessors for years. The new Mark II version appears much softer and tacky, whereas the old version would become quite hard over time.
Puncture resistance is good, and I have not had any issues with sidewall cuts as mentioned by others, even after spending time on rough roads and riding on gravel.
Would recommend these as a good value tire.
Great tire at nice price
Familiarity:

I've put it through the wringer
I run 25s of these tires on my road bike. I'd recommend the move from 23s to 25s for just about anyone (weight increase is marginal and ride/rolling resistance are better). I've had them on for two years with some moderate riding on gravel roads included...very few flats. Conti definitely has beefier tires available, but I've really been impressed with the toughness of such a light tire.
The standard for all my bikes
Familiarity:

I've used it several times
You get consistent performance and comfort riding these tires. Yes they do not last for ever but traction is excellent, rain or shine.

You can buy speed at a reasonable price!
Familiarity:

I've put it through the wringer
My wife and I have ridden this tire more than any other. I found an extra 1mph or so the first time I mounted them. Several comparison reports show they are the fastest road clincher that is still durable and suited for a few thousand training miles. Flat resistant and have experienced good tread up to about 3000mi. Not flat proof.

If there were a better clincher in this price range, I would ride it. There isn't. Buy the 4000S II.
contental 4000sII
Familiarity:

I returned this product before using it
the tires are great had used them before work well ,they got shipped to me very fast
BEST!
Familiarity:

I've put it through the wringer
Best all around tire. Takes a beating and loves it.
Great all-around tires
Familiarity:

I've put it through the wringer
I've tried multiple brands and models of tires through the years, but I always go back to the Conti's. They're light, roll great, and wear really well.
All Time Classic!
Familiarity:

I've put it through the wringer
These tires just plain do everything well. Handle well, wear well, don't ever seem to give me any grief going on or off the rim and they even look good (for what that's worth)! Continental quality is seond to none and easy to trust. I'm like others, I enjoy trying out new options, but I keep ending up back at the 4000 GP.
My only other recommendations are the 4-season and the Continental Gator Skins (if you ride in the rougher neighborhoods)
still my favorite
Familiarity:

I've put it through the wringer
Although I have been running the conti 4000's for several years now I still like to try out some different rubber to make sure I'm not missing out on anything. They are still my favorite clincher tire. They protect as well as anything I've ridden, more importantly performance is excellent, I can train and race on them. I with they lasted another 1k miles but hey I can't have everything.
Very Good Tires!
Familiarity:

I've used it several times
There are better performance tires out there that are lighter and with a better grip, but at a much higher cost as far as price and durability. For the $, it's hard to find a better overall tire than the Conti 4000 S II. It has a very good combination of performance, durability, and grip (unfortunately I can't comment yet on the grip on wet roads since California has been mired in a horrible drought). Buy them when they go on sale, which is pretty often.
Great racing tire
Familiarity:

I've put it through the wringer
These are the only tires that I had use since I bought my scott foil 2 years ago. Overall they are great tires for their intended purposed, racing. The tread compound does not last very long since use the black chili formula. A more softer rubber for better performance and grip. If your ride includes a lot of city street riding, I don't recommend this tire but if you just want to ride fast on weekends or in a peloton this is the tire for you.
Not the best, not the worst
Familiarity:

I've put it through the wringer
For overall performance v durability it's a good tire. but durability is definitely lacking as is the really high end performance. As with most conti tyres, i get sidewall issues. Honestly I prefer Vittoria rubino's as they're cheaper and about the same performance.
So many side wall failures
Gender:

Male

Familiarity:

I've put it through the wringer
The 4000s was my go to racing tire in the past. It rolled well and had adequate flat protection. The 4000s II has been nothing but a disappointment. I have had 4 of these tires fail due to cuts in the sidewall that ruin the tire. I am not sure what changed, but the lack of reliability of this tire compared to the original is appalling. Other people I ride with have been experiencing the same problems. The only positive for this situation is that I have discovered the Schwalbe One, which rolls very well and has had phenomenal flat protection for a racing tire. 0 flats in 1600 miles of gravel and cinder covered Ohio roads, including during early Spring when the roads were frequently being treated for snow. The 4000s II rides well while intact, but so does the One. Note the tube popping through the hole in the photo. That happened last Fall, before there was a lot of crap on the roads.
Smaller diameter than the 4000S
Familiarity:

I've used it several times
I have been riding the 4000s for a long time. I was psyched to see a new version coming to market. I like the 25 mm size. These are considerably narrower than their predecessor. Bummer. I want a bigger tire under me, and this new and improved version has gone skinnier--odd choice for Conti given the trend to bigger tires. The moment I put them on I could see they were not as big as the 4000s I was replacing. On my rims, they measure 2 mm skinnier, sidewall to sidewall. The 4000s measure at 25mm on my rims. These things come in at 23mm. Improvement? No.
Best tire ever!
Familiarity:

I've put it through the wringer
This tire is the grippiest and most durable tire I've used. I've trained on 'em, raced on 'em, everything. I think they're the perfect balance between durability and performance. You can't have it all but with this tire, I believe it is the best of both worlds.
One less worry at 50+ MPH
Familiarity:

I've put it through the wringer
I have ridden these GoTo tires for years on my old race bike (now taking on the commuter duties) and current race bike. Bombing down a canyon at 50+MPH and NOT having a single thought on if this tire can handle it it definitely #goatworth at the highest level.



My last race was in rain and I reduced the tire pressure to approx 80 PSI to improve traction and it worked like a charm. I love the tread life indicator dimple and always keep an extra set with the great deals at www.backcountry.com.
High roller
Familiarity:

I've put it through the wringer
I've run these tires for about 12,000 miles (not the same pair obviously) and I can't say enough. The ride quality is smooth, responsive and grippy regardless of weather. I have honestly flatted about 5 times. 5 in 12,000 miles. I can generally get 4000 mi on the front and 3000-3500 mi on the rear and I'm a 200lb rider on country and chip sealed roads. There are probably better riding tires, and stronger tires, and there are certainly cheaper and more expensive tires, but I cannot find a perfect combo of everything. These are my only choice in tires. Period.
New 25mm tire review
Familiarity:

I've used it several times
Went to 25mm because the pros are riding 25's. Was a little leary because I'm a 4000s rider and I love my 4000s. The 4000s II's are just as grippy and fast. The wider tire is a little tough to get on/off the bike, but no big deal. So far, no problems with wear or sidewall punctures like my old Michelins. Rides a lot smoother than the Mavic tires that came with my Kysirium SLR's. As it heats up some more, I'll see how it holds up to more miles!!