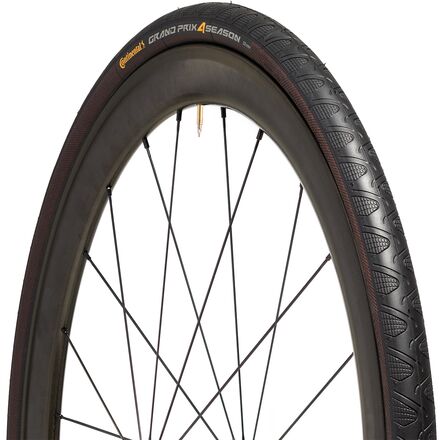 Colors
Description
When the roads are as rough as the cobbles.
The Grand Prix 4 Season Clincher Tire is a step above the tried and true 4000 when it comes to durability and flat resistance. It is ideal for racing in unpredictable conditions, and it's even better for training when the winter muck starts to thaw.
The Grand Prix 4 tire features a 330TPI (threads per square inch) double layer Vectran belt under the tread. This proprietary fabric is a liquid-crystalline polymer that features high levels of tear resistance at a low weight, making it ideal for racing as well as training. To take the Grand Prix 4 to the next level of rider satisfaction and beef up puncture resistance, Continental reinforced the sidewall with DuraSkin, a polyamide fabric that keeps road grit and grime from penetrating to the tube.
Double layer Vectran with DuraSkin sidewalls
330TPI inflatable to 120 PSI, (28mm to 115 PSI)
Share your thoughts
What do you think of the
Continental
Grand Prix 4 Season Tire - Clincher
? Share a...
Best tire out there
Familiarity:

I've put it through the wringer
I've tried a lot of tires for commuting and training and these have provided the best flat resistance, longevity, and versatility of the bunch.
contential 4 season tires
Familiarity:

I've put it through the wringer
these are great have a great wear pattern so they last and give you good tracksion when going down the road have order them many times
The perfect tire
Gender:

Male

Familiarity:

I've put it through the wringer
Okay I've been rolling around on continental tires for a while now. I've ridden michelin, tried vittoria, and even sampled some zipp tangente tires and these stood out to me like no other. I went from GP 4000SII's to the 4 Seasons because the side wall protection on the 4000's was severely lacking. THESE make up for that ONE THOUSAND FOLD!!!! I've only had two flats in the past 800 miles with these pups (first was a screw, second was rather large staple) and even then I'm still rolling around without a single issue. I've used the 23's and will be moving to the 25's as soon as I hit the 2000 mile mark (or they get too beat down). From racing, to commuting to class and work these are the perfect, most glorious tire I have had the privilege of ridding. LOVE THEM!!!!!!!!
Best tires ever
Familiarity:

I've put it through the wringer
I just put on 1,370 km on a pair of 25mm, on a trip across different types of roads (tarmac, gravel, loose gravel, wet roads, etc)... no flats, excellent grip and less vibration compared to other 25mm used
Go to tire!
Familiarity:

I've put it through the wringer
This is a great clincher tire for all season/training 24/7 . You may want a lighter tire for racing but outside of that put these on and go ride. I have ridding these for the last 5 years in Central Oregon ( lots of chip seal roads here) and they wear very well. Great in the rain as well. I have replaced sets 3 different times with this model. I would recommend to anyone wanting a clincher in all conditions.
Excellent winter tire
Familiarity:

I've put it through the wringer
I try to ride outside as much as I can in the winter, even here in Utah. If it's warmer than 30 degrees I'll get out. The Grand Prix 4 Seasons make it a bit easier to get out for sure. They're not the smoothest tires but I'm not racing on them for sure. But they are durable and have great traction on cold and wet roads. With these tires there's no excuse not to get outside this winter.
2,500 miles and going strong
Familiarity:

I've put it through the wringer
No flats, no issues. Nice feel. Simply can't go wrong.
After 2 rides I hit unseen ninja stars from hell and ended ride #3 with a 3/4 inch gash in the side wall. Overall the tires had nice rolling resistance (comparable to my 25cc Hutchinson Intensive tubeless tires), handled well in the wet. I don't know what I hit but it devestated the tire. This is one reason I went to the 4S--I wanted a bomb-proof commuter--but now I'm thinking its less bomb-proof. I'd say they're good tires, but if for training I'd probably go back to Vittoria Rubino Pros for a non-tubeless clincher set up or stick with the Hutchinson Intesnives.
Great tires
Familiarity:

I've put it through the wringer
This is my second set on Contis GP, my favorite tire!!!
Tire rolled off rim twice - one accident
Familiarity:

I've put it through the wringer
Tire rolled off the rims on two different occasions - one downhill leading to a nasty fall. Not a tire I would take a chance with again.
Love Them
Familiarity:

I've used it several times
I bought a pair of 700x28 for my EA90-XD cross wheels, and love them. Supple ride, and haven't had any flats on the road with them (knock on wood). These are my go-to training tires now.
Does the 4seasons have the recommended...
Does the 4seasons have the recommended specific tire rotation similar to the Grand Prix 4000? I don't see the directional arrows.
Yes, simply face the thumb print pattern forward in the direction of rotation of tire when installed!
Great winter tire
Familiarity:

I've put it through the wringer
Picked up this tire in 25 mm width for winter training. The County I live is does a terrible job picking up and sweeping the sand and gravel they out down during snap storms. So instead of dodging this material when it ends up on the shoulders, I picked up these durable tires so I can ride through it.

I experimented with the 25 mm width and confess I notice a difference in comfort and traction. I herniated a disc in my lower back 3 years ago and any advantage I can get in comfort without losing marks in looks (ie having to have some high rise stem of obnoxiously padded saddle) is great for me. I am going to use 25 mm tires when I buy my summer tires.

As always timely shipping and great service from Competitive Cyclist.
Fantastic training tire
Gender:

Female

Familiarity:

I've put it through the wringer
I'm not to worried about grams and saving weight, but what I am worried about is getting flats and the rubber compound on my tire holding up to being put through the wringer. If you want tires that kick ass and can stand up to the occasional romp down fire roads and grip flawlessly through corners, you can't go wrong with these guys. I've taken these slicks everywhere and haven't had a problem yet.
You cannot go wrong with the 4 season tire. If you will be riding in winter and in wet conditions these are awesome and will go forever 3,500-4,000 miles. If you never ride in the elements but ride lots and lots of miles then I would recommend getting the Continental Gator Hard Skins.
I live / ride in Vermont where many of the...
I live / ride in Vermont where many of the roads turn to hardpack dirt and sometimes gravel without warning.

Are these good tires for that?
Better than most road tires. They have a tread that works well in wet conditions. As long as it is not a very long distance they should work well.
After only about 1K miles the top rubber layer begin to peel off, showing the inner layer. On about 2K miles the damage appears on the inner surface causing the tube to explode.
Disappointed.
I slapped these in the 28's on my commuter bike to replace the 32C touring tires it came with. It made the bike noticeably more snappy and stiff. Which I like. They don'e roll over train tracks and the like quite as smoothly, but that's expected. I've got a couple hundred miles on them so far and no troubles. Good considering the construction zones, potholes, gutter junk, glass, and my fat butt all putting a strain on them. They stop fine and hold corners well. Not cheap so the better last a couple seasons at least. I might go back to the beefier tire for winter time when the roads are more unpredictable, but I think these will fit the bill the rest of the time.

October Update

I've ridden these tires nearly every day to work since May. Not a flat yet. No significant signs of wear. Great grip in the wet. Set the PSI and forget it. Upgrading to a full 5 stars.
My brother uses these tires and he loves them. This is the Gods truth, these tires last so many miles he replaced his wheelset before replacing the tires. An amazing 330tpi avoids even the worst punctures. The sidewall is bulletproof and the rubber is long lasting. Great for year round use or training.
The kevlar beaded version weighs at:
220 grams - 23mm, 250 grams - 25mm, 270 grams - 28mm
The wire bead you see here is an additional 50grams a tire.