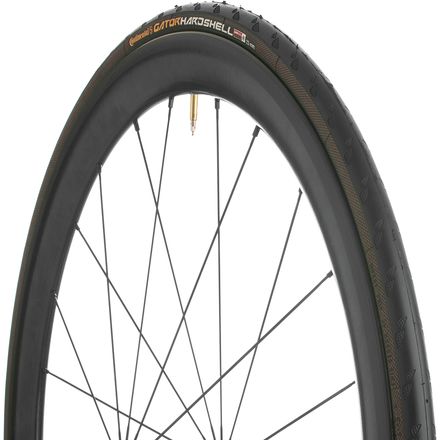 Colors

Detail Images

Community Images
Description
Fortification from flats.
Whether you're riding through rubble-littered roads on the way to work or rolling over spiny goat heads on your daily training ride, the Continental Gator Hardshell Tire delivers extra reinforcement from pesky flats and tire blowouts. Hardshell protection wraps the tire with three layers of 60 TPI rubber compound for extra durability and long-lasting use.
Its reinforced DuraSkin polyamide mesh prevents rips and tears along the sidewall. Going one step further, PolyX Breaker protection places overlapping polyester fibers along the entire tread strip for extra durability without increased rolling resistance. The tread pattern itself scatters road debris, such as glass and metal shards, instead of collecting it where it could lead to a puncture. The result is a tire that's about as puncture-resistant as possible, ensuring thousands of miles of wear and daily dependability without worrying about flats.
Hardshell protection (3-ply, each 60 TPI)
Reinforced with DuraSkin (polyamide mesh sidewalls)
PolyX Breaker protection
All-season compound
Great even after puncture
Familiarity:

I've put it through the wringer
I commute through DC. I had about 1500 miles on this tire before flatting, even after hitting glass, rocks, you name it. One morning, I hit a roofing staple, it went through the tire, and the tube instantly blew, obviously. However, I threw in a spare tube and the tire continued to hold (going on about 250 miles).
Haven't put through the full ringer yet
Familiarity:

I've used it several times
When It comes to riding, I usually put my gear to the test and so far these are holding up great. I do ride a fixed gear and skid stop when ever I feel like it. So far the tires are showing no wear and are still holding up through rides of grass and odds and ends with no flats
Only option for urban fixed gear riding
These tires are about as bombproof as they come. I use them on my fixed gear for urban riding/commuting, and they last much longer than anything else. I do ride brakeless, and am fairly liberal with my skid-stops. These are the only tires that will last more than a few weeks without being eaten up by the pavement.

If you want a tire that will last for a very long time, and remain almost perfectly puncture resistant, this is it. Only real drawback is that they are pretty squirrelly in weather.
Puncture Proof --So Far-- After 300 Miles
Familiarity:

I've used it several times
I've put around 300 miles on these tires so far and have yet to suffer a single flat. I ride in the desert southwest, too, where spiky plants and "goat head thorns" (google it) are as common on roadways as cigarette butts in the parking lot at the Kentucky Derby. My previous tires regularly suffered the wrath of spiky street gangs, and I usually had a flat every 50 miles or so.

I've romped more times than I would like to admit through loose gravel stretches laden with pointy glass shards, spiny goat heads, and chunks of broken rock--a gauntlet that my gators have guided gallantly with no flats to date.

Also, I think these tires ride just as fast as my previous, lighter tires, as my average speed hasn't dipped. So far, I love them.
Never had a flat on a gatorskin....Ever!
Familiarity:

I've put it through the wringer
They have terrible rolling resistance but you will never have a flat either unless you are really unlucky. They are great for the trainer as well, very good tread wear. I have a 25mm rear tire that has over 4000 outdoor miles and around 1000 indoor miles that i put on this spring...still going strong and i expect to get another thousand or so miles outside and 500 or more inside. Overall i would estimate their life to be around 5000-7000 miles, but i have some friends who have reportedly ridden them well over 10k (they were riding the 28mm, i ride 25mm).
Hard riding training tire!
Familiarity:

I've put it through the wringer
This tire is simply a Continental Gator skin with more rubber and weight, in my opinion they ride too rough. I would rather be on the classic Gatorskin or better yet my favorite the Grand Prix 4 Season Tire!
Best I've Found
Familiarity:

I've put it through the wringer
Moved to AZ 5 years ago and was plagued by flats -- mostly from thorns, which are a known problem in the desert. Went through a number of different tires before trying these. I can't say I never got a flat again, but the frequency went way down. The sidewalls can get a little chewed up, but it seems to be superficial. They ride nice given all the belting for flat protection.
First Flat At End of Second Season
Familiarity:

I've put it through the wringer
Original Post August 13, 2013: I ride pretty much year round and these have worn well. Cinders, gravel, potholes...they have been worth the money. Today I had my first flat with them, but it was most likely because of a cut in the sidewall during a very rainy ride. I had to ride on a rough shoulder to let a car pass on an uphill climb and I could hear the hissing as the tire lost air - oh crap. Nevertheless, I put a new tube in and did another 40 miles until I got home. I have to replace the rear tire, hence my visit here. The front is still in great shape. No reason I won't get another season out of that one.

Update April 18, 2015: The front tire is still going strong. One note of caution: when brand new, these are real buggers to get on the rim. After a bunch of miles it is easier to change.
I live / ride in Vermont where many of the...
I live / ride in Vermont where many of the roads turn to hardpack dirt without warning.

Are these good tires for that?

thanks.
Yeah, these things are tough and last what seems like forever accoding to my brother. Depending on how often your rides result in dir and gravel you may want to run the wider 25 mm version.
Does the gator hardshell come in schrader?...
Does the gator hardshell come in schrader? If not what is going to be my best tire for rough conditions?
Schrader is a valve type and is an attribute of the tube, not the tire. That being said, I've never seen a tube that came in the sizes of these tires (700x23,25) that had a schrader valve. This is chiefly because schrader valves are larger and require a larger hole in the rim. On road bike/racing wheels, this would weaken the rim because they're already so narrow so they're not used much.
Yes they do make Schrader valve tubes for these tires, but you are simply mixing Era's. Schrader valves do not seem to hold high pressure as well as Presta valves! Also Presta valves weigh less than Schrader valves another main attribute of their dominance in high end rim technology!


Definitely an upgrade from the rubber that came with the bike. Even though they're a heavier thick tire, the tread gives it very low rolling resistance, and when it's dry out they're sticky as can be. Can't see myself getting a tire other than this from here on out.
This tire made it about 100 miles. Couldn't return as 30 days had passed. I brought it to a local bike shop that dealt in continental and was mystified and tried to deal with continental rep to get replacement (ultimately failed with no reason given). Side wall blew out. No brake wear near tire. No rim damage. No over pressurization (was on its original air from replacement). $60 mistake. Now 400 miles on my second set of Armadillos (first wore through the first layer of rubber without any flats)
I did not buy my Gatorskins here, but do want to put in a positive recommendation. Ride on some tough surfaces from road debris to rough road conditions. They have not let me down. Will only be using these from now on. Husband used them on cross country trip from San Diego, back to Florida. Did not have a flat with this tire!
This is a well made tire. A little pricey but worth every penny.
Not a single flat since I put these on! They ride a little rougher than the Vittoria Rubino Pros I had on, but I was tired of winter tire destruction. I'll go back to the Rubino with its good ride and cool colors in the summer.