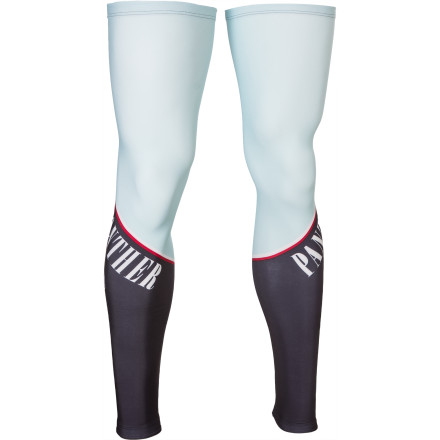 From the early spring races to the late fall cyclocross circuit, our co-sponsored Team Panther cycling team is out on the road and on the trails chasing podiums and spreading the gospel of both Panther Expedite and Competitive Cyclist. For those cold race or training days, our riders are never caught without their Team Panther Leg Warmers to complete their kits and keep their legs warm and primed for action.
The Team Panther Leg Warmers are not only fierce, but are printed on the Giordana Roubaix Leg Warmers. Constructed from the patented Super Roubaix fabric, the warmers provide even and ample warmth due to the fleece backing and varying fabric density of the Roubaix design. This variation also allows the warmers to follow the legs' contours, and provides light, targeted compression where it's needed. The material choice and contoured design means that you can expect barely-there comfort and enhanced moisture wicking. For extra comfort, the Team Panther Leg Warmers have minimal seams and are flat-stitched. The hems are finished with a silicone bead to keep each warmer in place at all times.
The Team Panther Leg Warmers are available in sizes Small through X-Large.