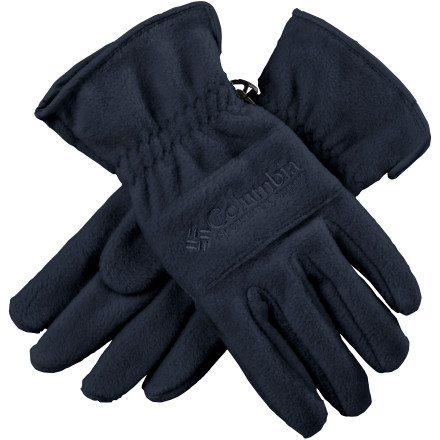 Detail Images
The Columbia Men's Wintertrainer Gloves' fleece shells give you just the right amount of insulation for spring skiing while the polyurethane leather palm increases grip and durability. No longer do you have to worry about shredding your fleece gloves by simply carrying you newly sharpened skis across the parking lot. When the sun shines brightly, and the corduroy calls, grab the Columbia Wintertrainer Gloves, and enjoy the weather.
Columbia Wintertrainer II Glove
Great gloves for 20/30 degree weather, the insulate your finger fairly well. They are not super warm and I think using them for something that will get them wet would not work very well.
The gloves are fine and function well...the name on the back of the gloves are in WHITE...bummer...sharpie pen took care of that...
great gloves-warm and ultra light
These gloves are amazing to me. I have had fleece gloves before but these are the best. They are very light weight and are fairly wind proof. I think that these are as warm as any ski -glove that I wore in the 80's yet so light. I wear these on my winter walks and often take them off for a bit to cool.
My 13-year-old son hates (what he considers) bulky winter gloves, so he usually wears those cheap thin acrylic gloves that you get at the drugstore. He wanted something that would be warmer but would still be flexible (for zipping, getting things out of his backpack, and so on). These gloves fit the bill perfectly. I lot of other options I looked at were really expensive because they were highly technical windstopping gloves (I guess), but that's not what my son needed. And since he'll lose them by the end of the winter, I wasn't going to spend a lot of money.
While well made, light and fairly warm, have had to wear something under them to keep fingertips from freezing during half hour dog walks. A little too light..but maybe that's just for old fingers? I notice that I wear them daily anyway and they are good down to about mid-thirties here in New Jersey