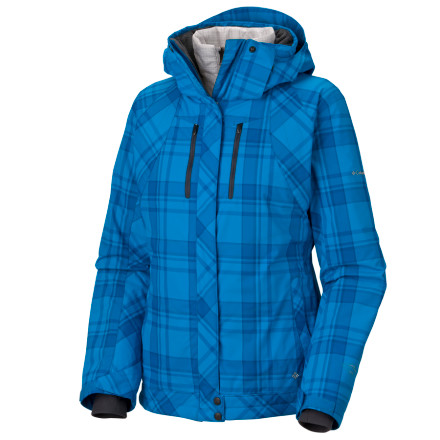 Detail Images
The Columbia Women's 3-in-1 Whirlibird Parka provides a double-dose of toasty, so you can probably get away with wearing just the shell. The beauty is that you can stow the mid-layer in your pack in case the mercury takes an unexpected dive. With 80 grams of Polyfill insulation, the Omni-Tech waterproof breathable shell will take care of most winter days. But it's still good to have that inner liner with its thermal reflective lining on hand and ready to roll out.
What do you think about this product?
Have questions about this product?
I just purchased this in the black, grey plaid color. Its better than I expected. The color is muted and not too showy yet still has great style. I did not want some thing super bright plaid and was so pleased when I saw the jacket in person. I was happy to see they offered some thing other than plain black and super brights. The fit is great but definitely go a size larger than you normally would as it is two jackets (liner, and outer). The outer seems super tough and the inner is cozy and warm. Cant wait to use it as the temps drop.
Does this jacket have the Omni-Heat Thermal...
Does this jacket have the Omni-Heat Thermal Reflective liner?
Hi KC - Yes, this jacket does have the Omni-Heat thermal reflective liner. :)
Embla's right. Plus, you can see the liner by itself under hte name Rebop Jacket
It does! and it goes back on really nicely too!
that was very smart alecky, and I apologize for that. I will say that not all removable hoods are this clean in finish work and easy to use. It's a beautiful jkt, and the liner piece on its own is beautiful too