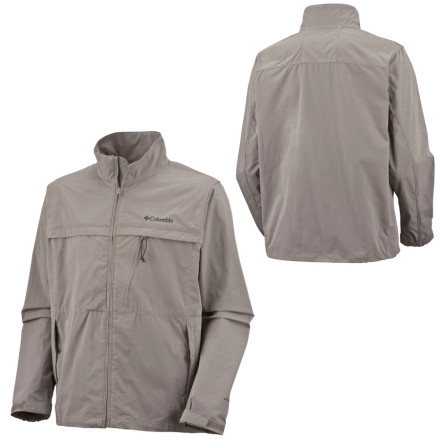 Detail Images
Throw on the Columbia Men's Venture Creek Jacket and head out for a night on the town. Columbia gave the Venture Creek Omni-Shield advanced repellency, so it shakes off spilled tequila like Bin Laden ditches pursuers. If you wake up somewhere in the woods again it'll be OK because the Venture Creek is happy as a clam outdoors; just call it a nature hike. Try not to think about how you got there.
Awesome jacket, very pleased
Ok so lets start with the basics. The fit is pretty accurate, unlike the Columbia rain jackets where you want to go a size up, the medium was a perfect choice for this 5'8" 170lb frame. The waist of the jacket is just over the waist line of my pants, partially covering the pockets. The waist can also be tightened if need be. The sleeves are a pretty good length and fall right around the thumb and can be tightened if you wish. The overall construction of the jacket is pretty solid, as you would come to expect from Columbia. Pretty light weight too, a great jacket for fall or spring, or even inside the office if the behemoths in the cubes next to you require a surplus of conditioned air. Layering may or may not be an option depending on the layers, a thin pull over or long sleeve tee would be fine, a sweatshirt maybe not as much. 4 pockets, 3 on outside, 1 hidden. Quick shipping and a great price from Backcountry makes this purchase a win-win-win.
Is this jacket lightweight/cool enough to...
Is this jacket lightweight/cool enough to be worn as a summer jacket? Maybe with just a t-shirt or dress-shirt underneath? If not, I'm open to suggestions...
It would probably be cool enough for the fall, but I would think the fleece/polyester mix would be a little warm for the summer, depending on where you live.
Nice jacket. Though, the size is bit large for small.
Would this work as a warm winter jacket,...
Would this work as a warm winter jacket, if i have a thinner base layer underneath or even just a t-shirt or 2?

or is it a jacket you have to layer up to really stay warm in cold/windy weather?
If you're properly layered, this will be a great, soft, comfy, versatile outer for you. It is a cotton blend shell that is more waterproof and stain resistant than most rain jackets people buy in major cities. the insulation will do a great job combatting th lower temps.
Forget the big poofy jackets that make you feel like the Michlen man driving down the road. This jacket rocks, lightweight yet still warm. What more could you ask for?
+1 on the description! This jacket is really light yet effective in keeping you warm. The Omni-shield is on a whole new level. I had beer spilled on the arm of the jacket in a bar and it was like it never happened. Oh yeah and the price isn't bad either! I would highly recommend it.