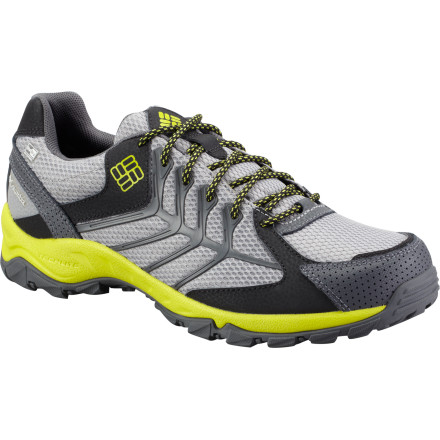 Not everyone stops trail running when it rains. Keep your feet dry and happy with Columbia's Trailhawk Outdry Hiking Shoe. Designed with a breathable Outdry mesh upper, your feet will stay dry as your ramble across muddy trails and the occasional creek. The Trailhawk shoes have a subtle matte finish and also feature leather details for that classic "running shoe" look. Perforated inserts at the toe and heel are elegant additions, and they make the shoe as at home for a day in town as they are on the singletrack. A slightly padded collar and Achilles tendon pad reduce pressure spots for all-day comfort.
The midsole is built with Techlite for durability and support over miles of travel. An Omni-grip outsole provides traction over varied terrain, while small lugs hold you to firmly to the ground. They're also anti-microbial so that your feet don't stink after a jaunt across Moab.
Omnidry mesh, leather,and TPU upper
Perforated details on heel and toe
Techlite midsole
Omni-grip outsole
Initial impressions were good, not now
Gender:

Male

Familiarity:

I've used it several times

Fit:

Runs small
My requirements for a shoe were that it has to have a sticky gripping sole, be very low and not rub my ankles or achilles area, waterproof, and lightweight. I will be using this shoe primarily on Sandstone in Utah and Nevada and will not know how well it grips until I make my next trip to that area but the sole is very soft and feels like it will grip very well from testing on concrete. I have attached a picture comparing this to the Patagonia Drifter A/C which I returned because it is a huge and heavy shoe compared to this. My size 10 Trailhawk weighs in at 14.20 ounces the Patagonia was 18 ounces. My initial impressions of wearing this shoe around the house were that it was fantastic, after a few outdoor trips however I hate this shoe with a passion. After around 5 miles on concrete the left shoe has developed this very loud noise with each step that sounds somewhat like the noise when you remove a suction cup from glass. I don't know if this is coming from the sole but it does it on every surface now that i've tried-carpet, tile, grass, concrete, crushed gravel, dirt. The left shoe fits my foot perfectly still but the right shoe fits terrible. The right shoe in the back rubs my achilles completely wrong and I can't walk more than about 2 miles, I have tried various tightness in the laces nothing helps. Lastly these shoes have not gotten any less stiff after multiple walks. There is no way I would be able to use these shoes for hiking as uncomfortable and stiff as they are and I can't even wear them to the grocery store due to the loud suction noises they make. At this point i'll probably donate them since thats about all I can do after wearing them outdoors and getting rid of the box.