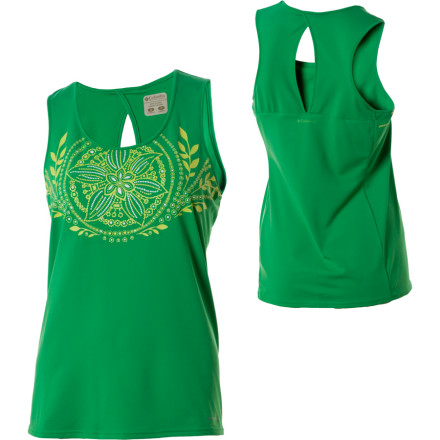 Detail Images
Great Top, Feels Like Air
This top is super-comfy - it feels like air. The fit is slim and long and, although it does run a tad big, I still bought my regular size (medium) and love the fit, feel, and look. It's not choking me to death. If you're looking to be squeezed a bit more, size down.
Wonderful top, just needed the right size.
Loved this top when I received it and was excited about it. I was hoping to wear it for workouts, hikes, camping, and running errands - seemed to be quite a versatile top and cute, too! Unfortunately, even with selecting the size based upon the measurements listed in the size chart and reading other reviews/comments, the top was still too large. Other than the size, I really REALLY liked this top - it felt comfortable, looked great, and it moves well.....just wish it didn't run big. The length was fine (it hit right around the hips), but it was too wide and the opening for the arms were too large (it sagged open). The shelf bra was okay - the elastic was soft and comfortable, but the material was bunching up. It is definitely cut to be fitted, but I would suggest going down a size since the S was quite loose on me and wish there were still XS available for me to exchange. So, I am reluctantly returning this top. I must also note that the customer service received was exceptional - thanks John M. for all your help, greatly appreciated! Hope to find a similar top like this one!
The shelf bra doesn't do much for me (still wear a sports bra with it) but I like the rest of it enough that it doesn't bother me. I've been wearing this mountain biking a bunch and love it. It wicks great and even though it's "slim" fit, it's not too tight, and fabric has a great hand despite being mostly polyester. Nice and soft/comy still. Love the green with yellow pattern combo, and I like the keyhhole back for style points so it's not as boring as the rest of my tech tops.
I love the built in shelf bra. It's a great material- the stretchiness is just right. Not skin tight, but slim fit. It is long- definitely down to the hips, which is really nice. I'm normally a size 2 top, and have the XS. Can wear it hiking or to a nice restaurant.