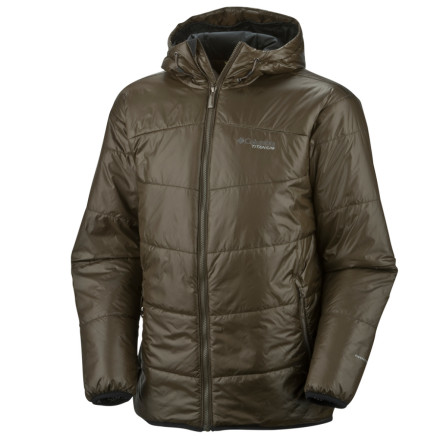 Community Images
The beauty of a puffy jacket with synthetic insulation is that it will still keep you warm even after it gets wet. Fortunately, the Columbia Men's Shimmer Me Timbers Jacket is made with Omni-Shield waterproof treated fabric, so you'll stay dry even if you get caught by a surprise winter squall. The polyester loft insulation will keep you warm, but Columbia added Omni-Heat thermal reflective material to make absolutely sure.
? About Columbia Shimmer Me Timbers...
? About Columbia Shimmer Me Timbers Jacket:

1. does this jacket have an athletic fit or loose fit for baselayers?
2. how does this jacket perform in rain/snow or when soaked?
3. is the outer material delicate or durable and does it snag easily?
4. does the hood fit over a climbing/skiing helmet?
I love this jacket and these questions bring to light why
- it is fit to layer a little but not a heavy fleece. it is quite good at managing heat alone
- the outer is treated with a durable waterproof repellancy (DWR) that is applied much differently than others. it will not soak, and the insulation will not either. i used this for drizzly days in gropple and mixed precip.
- the outer is also a tightly woven, slick fabric that will not snag easily.
- the hood is built to fit over a helmet, but the bulbous variation of helmets won't allow me to say ALL helmets.

will you dig this jacket? Absolutely
Hey guys. Like the jacket. I am 5'11" and...
Hey guys. Like the jacket. I am 5'11" and weigh 185lbs. M or L. Want it to fit right... not too wide or too short. Going to use it 4 backpacking and maybe spring skiing. How shiny is the compass blue? Is it decent?
Best Answer
Lorand, I would start with a Large. I think a Medium would be too snug unless you like your jackets to fit kind of tight.
there is a bit of a sheen to it, but not so much that is deterred buyers. the sheen was well received and will return next year. It looks great, and it shed moisture very well
In northern IN, we regularly get winds upwards of 25-30 mph due to the flat nature of the landscape. This jacket stops wind, warms with the insulation and omni-heat, and I love the light-weight feel and compressibility. I'm 6'1" and around 195, and a large fits perfect.

ps.....it is a shiny jacket, so if your not into that then this may not be the right one for you.
6'1" and approx. 210lbs (athletic build). I ordered a large in this jacket bc usually am in between that and an xl depending on the brand. The overall length is good, hits me a few inches below my belt-line. Sleeve lengths are so-so, they hit right at my wrist. So there isnt a lot of room for movement before they ride up. There is pletty of room in the chest and belly area. Shimmer me timbers jacket is fairly warm, I live in the St. louis area and I believe it will be enough for most cold days out of the year (unless you are naturally colder than most). I just received the jacket today and while wearing it inside I was hot and had to take it off. Overall I would say If you are around my size a large is good if you tend to use this as an insulating piece, but if you are tending to use it as outerwear you would probably want to order an xl.
Columbia Shimmer Me Timbers Jacket
I bought this jacket for my son for Christmas at his request and he was not disappointed. He did much research before putting this one on his list and was very happy with his selection. It's lightweight and warm enough for the Michigan winters.
Pretty impressed with this jacket. I've been using it around town in temps as low as single digits, with just a t-shirt underneath and it's warm. Also I've got about 6 days wearing it at the ski area in very cold temps as well as warm and wet and it's a solid outerpiece for skiing. All days I've just used a mid-weight base layer and I've been totally warm. I do think the OmniHeat technology works. it's noticeably warmer than any other synthetic puffy jackets I have and similar even to a big down parka I have. For the price it's a good deal. Use it for general around town or as your go-to puffy on the ski hill. I probably wouldn't use this for technical stuff like climbing or backcountry skiing because it's a little heavy and bulky.

I'm 6 feet tall, 158 lbs and the large fits me well.
Unanswered Question
j'aimerais savoir si cette veste supporte...
j'aimerais savoir si cette veste supporte les froid du canada, genre
- 30 celcius
Do the letters on the front of my jacket really spell out "Columbia"? I hate to play the name brand game but I was never fond of Columbia because they have been known to use stupid clothing materials (pvc rain jackets, or cotton hiking pants) and the fit of their clothes always sucked. However! This jacket's materials, the weight, and especially the fit all resemble wonderful craftsmanship that would be expected from brands like Marmot or Patagonia.

Why I bought this jacket: I was looking for a synthetic fill jacket to replace my down fill Marmot Ama Dablam jacket for winter backpacking but I did not want to spend over $150.

Warmth: WOW was I surprised by this jacket. Two mornings ago I crawled out of my tent and it was five degrees out. I had on a midweight baselayer, a hooded nylon wind shirt, and this jacket. I pulled the hood up over my stocking cap and I was warm as a button! I brought a down vest for extra core insulation but I never needed it.

Materials: The outershell is a very thin ripstop nylon. The insulation feels like a good quality synthetic and it is very compressible for a synthetic (100 grams). The inner is a light polyester fabric with little silver speckles on it. I originally hated the idea of a sparkly interior because in my eyes it was just extra weight but maybe it has something to do with the surprising warmth of this jacket.

Weight: I read somewhere that it weighs 22 ounces but because I can not find the source of this information I will just say that it feels very light and it compresses into the pack very easy.

Fit: This is where I was really impressed. I am 6'2" - 175 lbs and I bought a large. Usually jackets are either too wide or too short. This jacket fits close to my body and the arm/waist length is perfect. But the thing that most stuck out was that I can raise my arms above my head without the jacket riding up to my nipples.

Overall: I love it. If you are looking for a light synthetic fill jacket with an awesome fit that won't break your wallet this is it.
Is there any information about the weight...
Is there any information about the weight of the Jacket? Preferably the weight of a XL-size?

THX
Best Answer
Average weight is 21 ounces based on REI's specifications.
What can anyone tell about this jacket? ...
What can anyone tell about this jacket? Is it comparable to TNF Red Point jacket or Patagonia micropuff jacket? Any info/opinions would help
thanks
The Shimmer Me Timbers boasts the best heat regulation and insulation available this year. The insulation is OmniHeat-- Polyester with 50% being recycled. Ounce for ounce it is the most effective insulator out there. This also has OmniHeat Reflecive lining close to the body. It reflects and regulates heat and makes the jacket 20% warmer than the others you mentioned. it can be layered with and is quite water resistant with OmniShield as outer treatment.

the first item you ask for comparison offers asimilar "green" insulation, but not hte same capabilities nor OmniHeat reflective lining. The second is also a great piece with P1 insulation, and OmniHeat Insulation will beat it handily with heat retention and regulation at a fraaction of the cost.
and, yes... I represent Columbia. I don't know if that pops up readily.