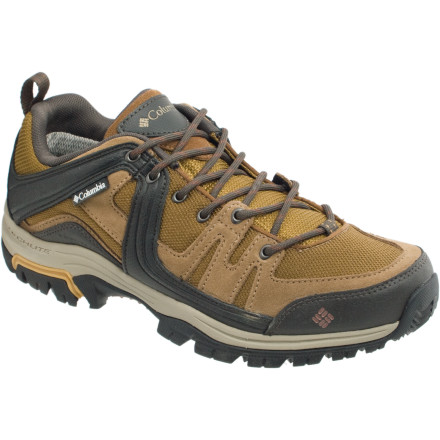 Head out for your next hike or trail run with Columbia's Shastalavista Omni-Tech Hiking Shoe. This all-purpose trainer comes with Columbia's Omni-Tech waterproof breathable membrane to repel water, mud, snow, and slush. The compression-molded TechLite midsole provides cushioning for your foot and keeps the shoe lightweight (under 13 oz for size 9). And the durable, non-marking Omni-Grip rubber outsole comes with a burly tread pattern that delivers traction on ever-changing trail conditions.
Well I just got them out of the box expecting these ugly(but cheap!) things that were pictured on bc. I was pleasantly surprised when I pulled out this pretty sweet pair of shoes. Plan on hiking Zion tomorrow in the rain so I'll try to update when I get a chance.
The main reason I wanted to comment was I ordered these at 4 pm yesterday!! Got the free 2 day shipping from backcountry. I LOVE this site (almost as much as SAC) and as soon as I figure out how to upload pix from my iPad you can see how much better these look than the photo above.
I like these shoes. I felt like a goat walking straight up sandstone pitches in southern Utah.
I'm not a big soft shoe person, but these have been great. I like the wider feel to the shoe, and I've been wearing them about every day since I got them with no sore feet. They also look great!
Took these shoes to Peru for a month and they worked out great for me. Super comfortable on my really wide feet, not too hot or too heavy while still keeping water out well, and surprisingly show almost no wear and tear after putting in a lot of miles in a short amount of time. The tread on them was perfect for the wet, slippery trails down there, as well as for gripping rocks while crossing rivers. I don't know much about arch support and what not, but these are really sturdy and supportive shoes and I had no issues at all after hiking in them day after day. I would definitely recommend them to anyone who needs a solid and comfortable pair of hiking or outdoor work shoes without the weight of a boot.