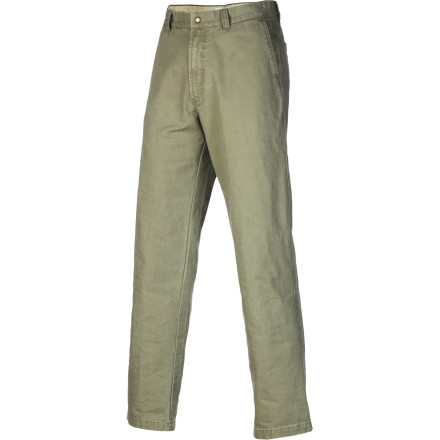 Detail Images
Description
Whatever your destination, go there with the Columbia Roc Pant.
Need a comfortable, casual pair of pants for your trip to Europe this year? The Columbia Roc Pant for men is a stylish pair of khakis with a side zip security pocket. You'll be ready for crowed train stations and soccer stadiums with your wallet and passport safely stowed. The colors are conservative enough to wear into almost anywhere so you won't have to worry about getting kicked to the curb trying to get into the Vatican.
Excellent quality
Familiarity:

I've used it several times

Fit:

True to size
I wear them on casual Fridays and they are very comfortable.
My husband loves these Roc pants.
Familiarity:

I've put it through the wringer

Fit:

True to size
And he'd love a pair in the color flax. For some reason, for our last three orders, we've ordered flax, but have received the wrong color - sage. I've asked customer service if flax is available, but no one can tell me.
My favorite pant
Familiarity:

I've put it through the wringer

Fit:

True to size
These fit great, wear like iron, and are my go-to everyday pant. I've had three sets of these (I buy two pair at a time), and each lasts about two years -- and I wear them almost every day. The pockets are great for storing things securely -- back pockets velcro, and the side zipper pocket is fantastic.
Relaxed fit but slim waist
Gender:

Male

Familiarity:

I returned this product before using it

Fit:

Runs small
They are a great looking pair of pants. My waist size fits between a 32-33. Having read several reviews that they "fit large" I decided to go with a 32x32 in hopes that the larger fit would be comfortable around the waist. Didn't happen... the waist fits snug and I'm afraid that the 34-in will be way too large. It's a shame because I like the style and cut. I should have known better, though, because any other Columbia pant that I've bought was hit and miss on the waist size and this "fit" that mode. I think the "fit large" comments must be in the amount of room that the relaxed cut gives you everywhere else but the waist. Length was perfect for me... I'm 6'-1"
Nice job Columbia
Familiarity:

I've used it several times

Fit:

Runs large
Good pants, just like their bigger brother the Ultimate Roc. However, I kinda like the fashion and style of these pants better actually. Their a little less utilitarian, but seem to have a more casual feel. Once again, the waist seems a bit large.
Another example of quality Columbia
Familiarity:

I've put it through the wringer
I've owned both the ROCs and Ultimate ROCs - unbelievably durable material. Concerning the ROCs...it took more than 2 years for my first pair to finally breakdown. The reselience doesnt seem to come at much of a price either...these pants are almost as comfy as my most coveted blue jeans. Lots of storage space - the leg pocket is perfect for a smart phone. A couple of complaints...the waist snap - i prefer the ultimate roc snap (the one with the hole all the way through). And because I've owned 7 pair of ROCs and U ROCs - the sizing doesnt always seem consistent. Otherwise ---> 4 out of 5 suns from me - keep up Columbia, and I don't mean the price!
These don't come in odd size anymore?
These don't come in odd size anymore?
These pants do still exist in odd waist sizes, but we are not carrying them at Backcountry right now. General feedback is that the relaxed fit allows most people to go down one size for an optimal fit.
Nice pants
Familiarity:

I've used it once or twice and have initial impressions

Fit:

True to size
I really don't have anything negative to say about these pants. I'm usually at 33x32 and so I tried both the 32x32 and 34x32 and found that with my 6'1" height and 180lb weight that the 34's tended to be a little bit large. But this goes to fit with the more relaxed design of these pants. Length was good and the peached cotton feels nice against the skin.



The design is nice in that they look a little fancier than denim jeans (depending on the color you choose) but they also look good as nice pair of work pants.
are the legs tapered or straight?
are the legs tapered or straight?


they are not skinny pants and they're not bellbottoms. there is a slight taper more than a straight leg would have by design.


Great Product
Familiarity:

I've put it through the wringer
I had heard about them awhile back and so when I happened to run across some on sale I thought I would try them out, and they are great. While I hate jeans for the most part its hard to get by in the cooler months and winter without them and that's where these come in. They are rugged and work great on the trail or at work and being a meter reader whether hopping fences or the constant bending down its nice to know that my phone isn't going to fall out because its zippered in. Also the placement of the zip pocket is great because its behind the main right pocket so you don't have to reach down like you do with cargo pants. I highly recommend them.
Not so good if you're skinny
Familiarity:

I've used it once or twice and have initial impressions

Fit:

Runs large
Man, these things are huuuuuuge! Ordered my usual size and thought I'd been sent the wrong size (I hadn't). They're a very baggy fit and seem to run very large in the waist - tried slapping a belt on but ended up looking like a hiking clown. Buying without trying on first is always a risk, looks like my luck ran out with these - if like me you prefer a more tailored fit I'd look elsewhere.


Why don'have they size of 32" waist and...
Why don'have they size of 32" waist and 34" inseam in Columbia Roc Pants Men's Item COL1220# It is a common size I think
Best Answer
Hey Gary. I don't know what item COL1220# is, but all of the colors are available in a 32 x 34 for the pants on this page.

I'm on a different computer today and noticed that the sizes and layout are different on an old version of internet explorer than they are on google Chrome. 32 x 34 is still available, but it's at the bottom of the drop-down list instead of mixed in with all the other sizes. Hopefully that helps.
I bought two of these four years ago, specifically for the first of three trips to India. Although I also wear them regularly in the U.S., they make great travel pants because they are roomy and I make good use of the extra zippered pocket. That's where I keep money and credit cards. The other regular pockets are for the usual crapola I carry. The zippered pocket is what sold me.
Great pants for everyday use!
I have been wearing Columbia pants for years. My favorite is the "LANDER" due to the increased room in the seat. These are fast becoming my favorite since Columbia no longer offers the Lander pant. The ROC, has a good fit, I wear them everyday to work, church, I even wore them on the golf course. It seems the fabric is a little thinner than the original ROC that I have purchased in the past. The quality is still there. My overall recommendation is buy these pants you will not be disappointed.
Quality has declined but still great!
Gender:

Male

Familiarity:

I've put it through the wringer
I purchased a few pairs of the ROC pant about two years ago and they are fantastic. I was so glad to find them on BackCountry a few months ago, I quickly ordered four more pairs. The quality is not the same as it was two years ago (seems like the fabric is thinner and the stitching not as strong). They are still very comfortable and a great value at this price. I love the side pocket on the right side pants leg, it's perfect for my pen. Who needs a pocket protector?
Ordered 2 pairs, same size, diff fit...
Gender:

Male

Familiarity:

I've used it several times
I ordered 2 pairs of the pants, same size, yet different color. Before ordering the 2, I already had another pair, yet again, different color. Since I had a pair that fit well, I figured I'd order the same size. So the 2 pairs of pants come in...one pair fits like my first pair, yet for some reason, the 2nd pair did not fit me at all. Super tight. Even though the label said "34x32", just like the other pair. Luckily backcountry has a good return policy. Unfortunately, the return pair should have been shipped 3 weeks ago but was sitting at "pending". I had to get online and chat yet again with a customer rep. They straightened it out and I "should" be getting the replacement pair next week.
Great pants!
Gender:

Male

Familiarity:

I've used it several times
I purchased 4 pair of these pants 5 years ago and liked them so well, I just purchased two more. They are tough as nails with the cuffs just now beginning to fray on the 5 year old pants that I wear daily. The new pairs are made of slightly lighter material but fit just as well. I take a high rise crotch and these give me plenty of room. I liked them so well, I bought my son two pair.
If the ROC Pants had the Omni Shield repellent for dirt and water they would be Perfect! These pants are much better than the Ultimate ROC Pants as they have two extra belt loops in back, a roomier cut and the zippered security pocket is positioned in a much better place.
The Columbia Roc is a good pair of casual pants for around town or traveling. The material is soft and very comfortable cotton. These pants are slow to dry, so hiking isn't the best use for them. I would prefer it if the sizing was a little less baggy.
I can't believe you almost doubled the price for the Columbia Roc pants!!