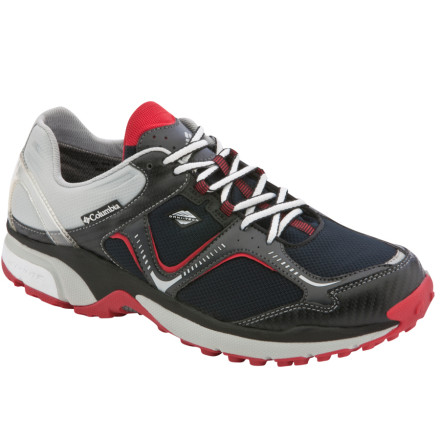 What do you think about this product?
Have questions about this product?
yeah... I work for Columbia. I am also a gear snob. I speak my mind on what I like far less than I bag on things I don't like. This shoe, I like a lot. I hiked it around on a day hike, I ran 5 miles of trail and kicked around town in it. It's light enough that I forgot about it, comfy to the point i had no problems at all, and the tread is just right to hold the trail and not grab too much in town... I am also painfully clumsy, I forgot to mention. many trail runnin gshoes grab too much of the domestic terrain (carpet, tile grout, non-skid flooring)and bring me to the floor.

the standout in comfort is the heel strike. It is soft at impact and still directs the foot in the right way for me. I even went with the Omni Tech model to put my money where my mouth is. It breathes fantastically well and I forgot that it houses a membrane.

buy it and go do.
These shoes are awesome.... They are super light and have great breath ability. I have been wearing them running and also just cruising around town. The shoes are also true to size, I am a 9.5 and they fit perfect. The shoes are not super waterproof but the breath ability is great. The tread also works really well, I have noticed walking on ice that it holds up real well.