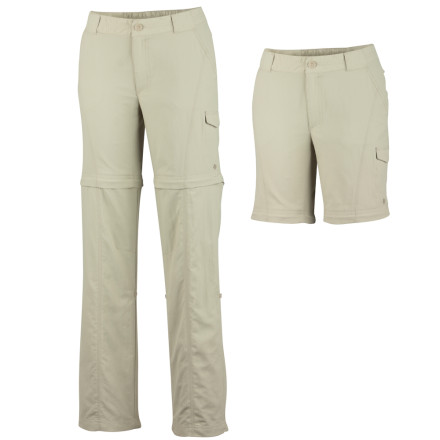 Detail Images
When you're backpacking, traveling, or just on a hike when the weather could turn, you'll appreciate a good convertible pant. The Columbia Women's Psych to Hike Convertible Pant's legs zip off to make the pant into 8-inch inseam shorts. So start in the full pants, or start in the shorts and keep the pant legs stowed in your pack. Either way, you can adapt to the day's temperatures. Elastic at the waistline gives a comfy fit, and sturdy nylon Summit Cloth stands up to the abuses of life on the trail. Keep small items safely stowed in the zip security pocket.
These pants seem like they would be great if they fit you - nice material & features. For me the waist was way too big (even with the partial elastic) while the zippers barely fit around my thighs. Unfortunately this is a common problem for me with many pants so they probably fit others just fine. Anyone else with this problem that has found great fitting pants please share!
I ordered these pants in a 10 and 12 because I often find I am between sizes I am 5'4" and 140lbs. On me the 12's were HUGE! ...baggy butt and hanging crotch-line. The 10's looked great on me, I loved them they looked as if they fit great and the elastic on the back is nice because it prevents plumbers crack when you bend over. I tore the tags off of them and wore them the day they came in the mail. As I wore them I noticed that when I sat down the legs were way too tight, especially where the zippers for the shorts were. The fabric is great and they look good when I stand up, but sitting down they actually hurt my legs. I guess they might work for some people, but not for me.
I had to go a size up...I always wear a 4 and had to buy a 6. They run long in the length as well...but they will serve their purpose as long as I wear boots. Great pants and very lightweight!
These pants are awesome! they are so comfortable and fit really well - they are also true to size as most columbia products are Ive found as opposed to north face which tends to run a little big
I am returning these because they are a high rise pant. The waist description just said "belt loops" but the waist sat right under my belly button. I have a short torso and am only 20 years old, I'm not ready to wear high rise pants. They also were very unflattering on the butt. Other than that, the length was great (im 5'4'' and ordered an 8 reg) and the material was really light weight.. great for hot days I assume.
I am a thick girl--big butt/thighs. I am a true 10 and that is what I ordered in this pant. They fit and they are not tight on my thighs or booty. The waist has a little elastic in it and that give is helpful to me when hiking. The zippers to the shorts work smoothly and easily, never threatening to catch on the surrounding fabric and the shorts are the "right" length (an inch or so above my knee, but not too short).