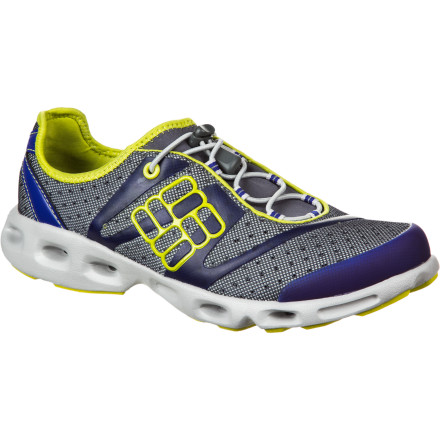 Your passion for water and running may seem like a dilemma when it comes to choosing the proper footwear, but perhaps that's because you haven't slipped your foot into the Columbia Women's Powerdrain Water Shoe.
Mesh upper offers serious breathability while the added EVA strips add flexible support and TPU toe cap offers some protection from rocks
Three-layer system moves water and air in and out of the shoe for comfort and quick drying
Elasticized lace features a locking, quick-pull design to let you get in and out easily
Techlite footbed offers extra cushion for walking on uneven terrain whether on land or in the water
Half-length shank offers stability with added rigidity to the super-soft, lightweight midsole
Techlite midsole features drainage ports that channel water down through the foam and out the sides
Omni-Grip outsole utilizes sticky rubber with siped lugs for traction on wet, dry, and loose surfaces
A very comfortable, light shoe. Those extra drainage channels in the footbed really do make a difference. I love having a water shoe that I can hike in during the summer months and trek from trail into water and back to trail without having to change my foot gear (and/or just not having to worry about heavy soaked shoes should we end up hiking in the rain). However, I really needed a shoe with extra coverage over my big toe (my nail rubs through before the rest of shoe has expired)... it appeared that this shoe had that extra feature, but alas, it did not which is why I returned it and am on the hunt again. (Several different images of this shoe shoe an extra flap on that side of the toe cap??)
I love these shoes! They are comfortable and have good support for my arthritic feet. I use them during water aerobics and while at Yosemite last week I wore them while rafting, well I guess you could call it rafting. In some places the river was only about 4" deep so we had to get out of the raft and pull it over the rocks and these shoes held tight on those slippery rocks. They were comfortable while walking back to our tent and by the time we did get back to camp they were almost dry...amazing. If you want a good all-around shoe this is the one for you.
I wore these shoes for an entire week during a guided rafting expedition in the Grand Canyon. Not only are they stylish (at least I thought so), but they provided support like a running shoe, kept my feet from becoming prunes, and were very comfortable. I hiked multiple times in them and felt safe (good grip) and comfortable. The only issue I had during the middle of the trip was that sand got in them and began to abrade my feet. That of course was no fault of the shoes; I wouldn't necessarily expect them to filter out sand. Overall, I loved these shoes and would recommend them to anyone looking for a cute, comfortable water shoe.
I received these shoes today just before leaving for my water aerobics class, I quickly changed in to them and headed for the pool. WOW, what a huge difference in my workout! I had better traction in the water (even on the slippery black tile lines). They are feather light and so comfortable. I have arthritis in my feet and with the arch support and heel cup my feet felt like they were walking on a cloud...no pain. These will be my "go to" shoes from now on.
Would these fit a wide foot? I normally...
Would these fit a wide foot? I normally wear a wide shoe and need a very good water/rafting/shoreline shoe. Any thoughts?
My foot is wide and they feel good, I use them for water aerobics and they are very comfortable. I was wondering when I bought them if they would be too narrow but they are not. So unless your feet are extra wide they should be fine.