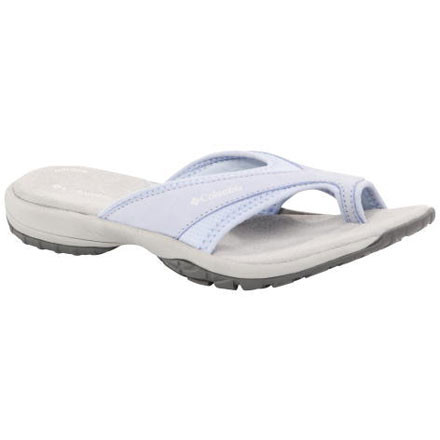 I have worn the Nevis sandal for years .
Familiarity:

I've put it through the wringer

Fit:

True to size
I have worn the same pair of these sandals every summer continually for about 4/5 years,there is no end to them.They are great.
Unanswered Question
when will the Columbia Nevis sandal- womens, come back in stock.

Liz
I own every color, but they all are about 4 years old. I am 62 years old and have bad knees, these are the only shoes I can wear all day and walk for hours without discomfort.
Write your question here...do you make...
Write your question here...do you make size 11 for women?
go check columbia's site, backcountry.com doesnt manufacture these sandals
Write your question here...Can you machine...
Write your question here...Can you machine wash the Columbia sandals, Nevis model, or how can you wash them
Generally, I wear a size 6.5 shoe. Can...
Generally, I wear a size 6.5 shoe. Can you tell me if these shoes run true to size, large or small. I need to know what size would most likely fit . . . a 6 or a 7.
Hey Suzanne,In this particular shoe I'd go with the 7. They run pretty true to size but you'd never want sandals that are a bit too small. It's painful!
I purchased two pair of these sandals 2 years ago, and then the store didn't have them last year. Because I was afraid they would go out of stock completely, I came to this site and ordered 2 more pair just to be sure I had some if the others wore out. (So far, the 2-year-olds are still doing great, and I wear them every day of the summer) I have flat feet and these offer arch support and keep my feet from sliding down into a 'thong' and rubbing blisters between my toes. The way this thong is designed, it holds the foot in place. They are as comfortable for walking as any running/sports shoe I've worn, even for my dreadfully flat feet. Like the other reviewers, I HOPE Columbia continues to make exactly this style of sandal. I promise that I'll continue to sing their praises so others can help me make it worth it for Columbia to keep them in their line of goods; and if BackCountry continues to offer them, their online store will be my first choice because of the ease in ordering and promptness in receiving.
LOVE these sandals.........would buy again in a heartbeat
Most comfortable slip on sandal with good arch support and good looks. Only troube is finding my size 8 in black. Backcountry doesn't have anymore and I want a sandal that is all black--no white stripes on the footbed which comes with another Columbia style. Great sandal!
When will you give size 8 Nevis sandal in...
When will you give size 8 Nevis sandal in black?Thank you. Toni Shiurba
Hey Toni,Your best bet is to jump on "live chat" and ask those folks. They'll be able to look up if there are any on order and if so, they can give you an idea of roughly when they'll be in stock.
I too bought my first pair last year - have about 7 pairs!! (one for each day of week!). They are the most comfortable sandal/flip flop like shoe! And the best part - I have two big bunions and they "hide" the bunions!!! Recommend if you want support, comfort, and style!!!!! Keep making them!!!! Please!!!
Buy 'em, you won't be sorry.
Love, love , love these sandles!! I bought my first pair two years ago, and have now worn them out. In the summer I wear them every day, all day when I can. Most comfortable pair of anything that have ever been on my feet so don't ever stop making them! One question: what happened to the two-tone blue you had two years ago-any chance of bringing that color back?
These shoes are much more comfortable than the thong type shoe for me and they give good support. When I go to the closet to get shoes they are the first ones I reach for because I can wear them inside and outside. I love them! When I am not dressing up, these are my favorite.