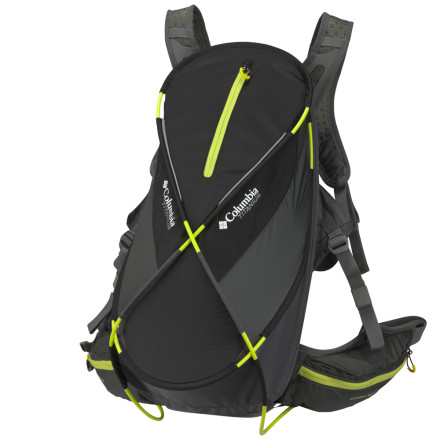 Detail Images
You know when you get that strained-neck feeling after hammering miles after miles of singletrack? With the Columbia Mobex Float AR Backpack and its Floating Suspension system, the weight of your bag is 'floated' off your neck and shoulders and displaced to your hips.
Floating back support system keeps the load off your shoulders and places it on the hips where you want to carry the most weight
Flexible rod frame on the exterior adds pack support while keeping the weight light
Main compartment opens up clam-shell style so you can pack it easily and get to the bottom without repacking
Internal gear organization holds everything in place so it doesn't bounce around as you floor it on the singletrack
Omni-shield advanced repellency keeps light rain on the outside of your bag
Lightweight shoulder straps breathe when your body is in overdrive
Fully-wrapped hip-belt has dual hip pockets to store high-energy snacks
What do you think about this product?
Have questions about this product?
uncomfortable, poorly made
It actually holds quite a bit, though the internal compartment is odd- once you get used to it it's quite useful. It's very well ventilated and when on properly is quite comfortable. Unfortunately in most situations it's fairly uncomfortable! You MUST have it completely strapped on at all times, otherwise you get a lot of digging in. the hip belt is completely molded and angled- if it is not harnessed on properly it's just straight up uncomfortable. Also- after about 2 months of very light use the poles started sticking out of their tubing. FYI- they're sharp, and they hurt when they scratch!
This pack is just kind of odd. Cool concept, but it doesn't work. I picked it up for a great price on SAC but it's going back. I'm 5'6", so not the tallest female, but it digs right into my waist/butt. Loading the pack up with weight makes it much worse. I did notice that all of the weight was going to my hips and for the most part not on my shoulders-- but with the two pole like things at the bottom it was very uncomfortable.
I had my boyfriend put it on, who's 6'4" and solidly built. It wasn't as bothersome for him but he wasn't thrilled with it either.
The inside of the pack is kind of odd, a bit difficult to get to the compartments and nothing larger would fit unless you removed the divider between the pockets... Oh well.
It seems it has a women's version. It's not specified here. The size is not proper for a regular woman, maybe for tall ones it fits. Hurts at the hips, where it should not reach if I were taller.