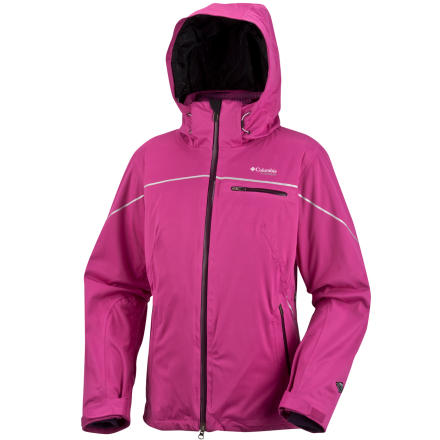 What do you think about this product?
Have questions about this product?
I had the peek to creek Columbia for a few years and after the zip busted I upgraded to this .Its not the same quality at all. I wish I had my old one back. Though the down inner is a snug as a bug as a rug ! I love that part !
Well, it's definitely waterproof. Wore the shell in a storm and the rain pearled and rolled right off the jacket. The material is very soft and comfortable. True to size--I'm 5'7 and 125 lbs, and it fits great. Even with the liner, there is still room for a fleece and another base layer or two, maybe more. There are pit vents in both the liner and the shell. The liner zips out of the shell and is also attached by little snaps in the sleeves. There are five or so pockets, including one for your mp3 player with a little earphone cord opening. Also, there is not a white stripe on mine. Mine is completely black. I bought this to climb Kilimanjaro in a month. I'm a little nervous that the down liner is too thin; it doesn't seem quite warm enough for the extreme cold (0 degrees F). I'm not going to knock it down on the warmth rating because I simply haven't tried it in extreme cold yet.Overall it's a really nice jacket, especially in light of the sale price.
Unanswered Question
Is this Kit parka a tapered fitted model? Is...
Is this Kit parka a tapered fitted model?
Is the hood attached and not removable?