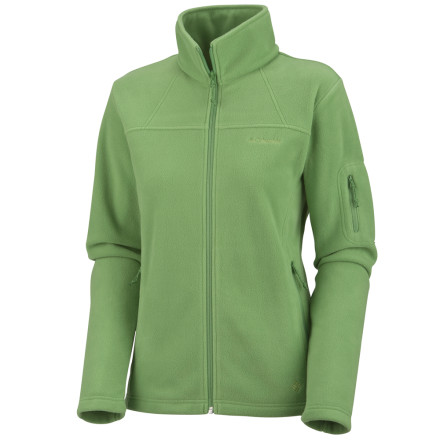 Wear the Columbia Fast Trek Fleece Women's Jacket on your daily walk to the dog park, and stay warm when it takes twice as long for the pup to check out all the pee-posts. Zippered hand-warming pockets keep your unleashed hand alive and hold extra dog-baggies. When the temperature starts to plummet, the Fast Trek's high collar zips up for extra chill-protection. A zip pocket on the sleeve holds your keys so you can swiftly make it back inside when the walk ends (finally).
This is a great fleece and I love the color. My bust is a 38 and I ordered the L in the fireweed. Wish I would have ordered the XL. They just did not have the XL in fireweed. It is fine if my layers underneath are thin. It is fitted, so it has a wonderful shape to it. If they get a XL in fireweed I will definitely get another one.
it is warm, i like the small pocket on the sleeve. the zippers don't stick. it is very cozy.
This is a very cute and cozy fleece. It is a little more fitted than my other fleeces, so it looks great.
It works. Usually I'm between a L or XL, but got an Xl for layering now when going to AK in a couple weeks. Live in MN and love it for those colder nights in spring, summer and fall. The sleeves seem a little long. Love the Fireweed color, its not as bright like picture shows..like the other post, its more of a "dull" red/pink. I like the pockets, feels nice and warm!
I really love the color of this fleece. I bought the Fireweed color and it looks like a cross between red and dark pink. The fit is a little box-y but since I plan on using it for layering it's not a big deal. But if you're looking to wear it by itself it's not very feminine or form fitting. It's warm enough by itself for chilly evenings, and would probably only need another warm layer and a shell for colder temperatures. Overall I like it alot!
How long is this jacket and does it have...
How long is this jacket and does it have a draw cord at the hem?
Best Answer
A Medium is 25" long from the bottom hem of the collar to the bottom of the seam on the back. There is no drawcord on the waist of this model
How thick is this fleece? Would this be a...
How thick is this fleece? Would this be a good layering jacket in really cold climates or more for casual wear?
Best Answer
this fleece is awesome for layering. It is a 250g weight and cut to be slimmer than the Benton... making it a perfect layering piece. It isn't a skin-fit so as a casula, stand-alone piece it will be sporty and functional