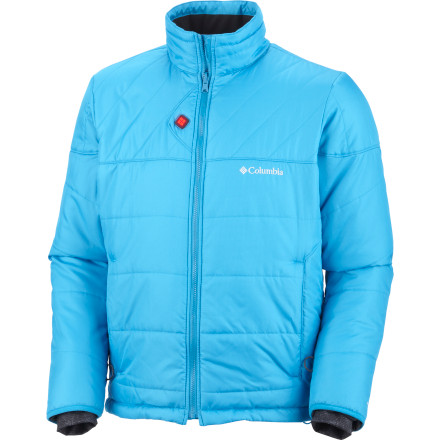 You're just sick and tired of being cold. Columbia is well aware of this fact. As a kid, you used to fantasize about an electronically-heated suit of cold-armor that would allow you to stay warm anywhere in the world. Columbia is well aware of this fact, too. As a direct result of your frustrations and dreams, Columbia created the Electro Amp Insulated Jacket. This electrically heated jacket allows you to dial the amount of heat you want with three settings: high, medium, and low. The rechargeable batteries are included and run for five to seven hours, depending on the heat setting. Don't worry about them running out, either. The Electro Amp Jacket still packs toasty-warm insulation with an Omni-Heat liner, so it will still keep you comfortable with the heaters off.
Omni-Shield resists all liquids below 170 degrees Fahrenheit to keep you dry and clothes from becoming stained
Omni-Shield fabrics dry 3 to 5 times faster than untreated fabrics
Omni-Heat reflective liner reflects heat back in toward your body while allowing excess heat and moisture to escape
Drawcord-adjustable hem stops drafts from cooling your torso
Interior security pocket keeps valuables safe
Zippered pockets keep your stuff inside, even when skiing, and keep cold air from entering
Zip-in and 3-point Interchange system allows you to beef up the jacket with a Columbia liner
What do you think about this product?
Have questions about this product?
This jacket is... well there are no words to descried it! Even with the heat off its very warm! And its got slits in the wrist for your thumbs to go through, at first i was like owww no its damaged, but then i was like owwwww ok. :-)