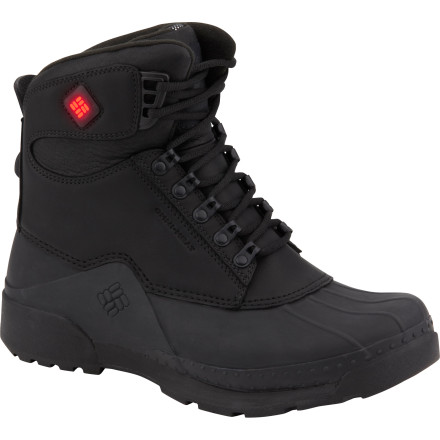 Videos
Whether you're ice-fishing, watching football, or putting in hours at the job site in the dead of winter (ouch!), the Columbia Bugaboot Original Electric Boot has you covered. The Bugaboot has an onboard electric heater, so you can just dial in the amount of heat you need and feel great all day. The Omni-Heat Thermal Reflective liner reflects heat back onto your foot, too, so there isn't much cold weather that the Bugaboot can't tackle while providing comfortable warmth.
Omni-Heat reflective liner reflects heat back in toward your foot while allowing excess heat and moisture to escape
Omni-Grip non-marking outsole provides optimal traction on any surface
EVA midsole absorbs shock and cushions
Meh
Gender:

Male

Familiarity:

I've put it through the wringer

Fit:

True to size
Not great, not bad. A little finicky to get the charging cords into the back of the boot. Comfortable enough. Provides a low to medium amount of heat as to what I had expected. At least they are waterproof. Lasts about 1.5 hrs on high and 3 hrs on low.

Update: After 2 weeks of daily use the contacts between the boot and the heated insole got a little rusted and the boots stopped heating properly. after I sanded off the rust they work again but not as well as they originally did. That being said their waterproof integrity has held up very well. Puddles aint got s**t on me now
Columbia Bugaboot Original Electric Boot
wen will some more b in stock
wen will some more b in stock


Hey Maurice,

This is the remaining stock from last winter. We won't be seeing this exact model come back in stock, but the new winter gear for 2014 should be arriving within the next couple months. Keep checking back and we can keep an eye on our orders from Colombia and provide you with a better idea of when to expect the new model.
Upon receipt of these boots I/we (my brother got a pair too) wondered how long the charging ports would last because the male plug was very difficult to insert and alignment in the female port was stressing the connector. Shortly afterward received an email from Backcountry explaining they were aware of the problem and were sending out redesigned charging cables. At the time we were impressed by the customer service. Within days one of the connectors broke off inside one of the boots. Customer service handled the return flawlessly and quickly. However my brother still hasn't received new charging cables, and the new boots seem to have a problem with one boot holding a charge. I can charge them in the morning, and if I take them off the charger more than an hour before I use them the left boot will lose its charge significantly before the right boot. When they are charged and heating they are very warm and comfortable, but they only hold a charge for an hour or two at best. To be fair Columbia publishes a 1-3 hour capacity rating for these boots. I did expect Backcountry to follow through with sending the new cables for my brothers pair though. I will probably have to return mine again due to the left boot losing its charge when not in use.