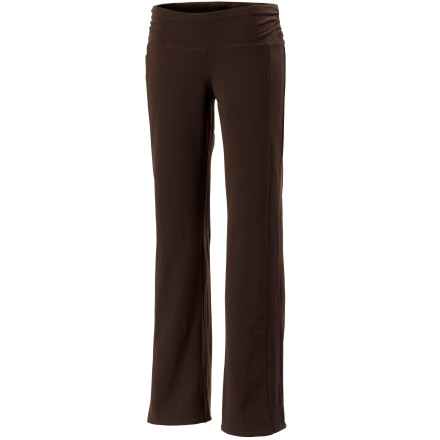 got 2 pair on sale :)
I am 5'8" - Large short.
Columbia makes a good product and if you like the fit, they will last a long time.
Great deal!
length was good for me...I like high waters!
good for lots of activities.
Columbia Ashtanga ll Pants
Great pants...so comfy ...now own four pairs
Do these shrink at all? I got a large and...
Do these shrink at all? I got a large and they are a little big in the waist and a tinsy bit long...wondering if I should exchange for the medium or just wash these because they aren't falling off they just are not snug whatsoever. Thanks!
these don't shrink like a cotton jersey material would. overheating synthetic material makes it rough, not smaller
the long length is perfect, i am 5' 10". i had no problem with shrinking (i even put them in the dryer) they seem to run a little big in the waist.
Almost returned them initially because the had some unnecessary gathering at the hips. But since they were a great price and the length was perfect for me 5'3" and I ordered a small short, I was going to keep them. But I then washed them once following the manufacturers recommendation and they shrunk way too short so I am returning them
Columbia Ashtanga II Pant - Women's
Very comfortable pants and stylish. Love the fact they have pockets. I wear these pants everywhere but the gym. I bought them in black and brown. loved them so much I oerdered a another pair black and brown so I alway have a pair to wear. based on the previous reviews I did order one size down, and they fit perfectly.
These pants are very comfortable and fit just right. I got them for lounging at home. But if I needed to run an errand in them, I could.

The best thing I like is that the length is perfect. I ordered the SHORT length (I am 5'2").

Being able to order pants in short length is important to me especially if the fabric is stretchy (i.e. difficult to hem). So thank you Columbia!
Unanswered Question
Would these pants be good for rock...
Would these pants be good for rock climbing?
Regarding inseams: the sizing chart is...
Regarding inseams: the sizing chart is very generic. This product is offered in Short, Regular, and Long. What is the inseam for Short, size Small?
I work from home and got these pants for the days I feel like being extra comfortable. I normally wear a medium in pants (size 6 or 8), but ordered a small in these. They fit really well and are very comfortable. Many pants are long on me and so are these (I ordered the Regular length). If I wear them with shoes, it won't be bad, but they are pretty long without shoes on. I like that the waist sits high enough to be very comfortable, but without having to worry about them pulling down in the back when bending over or sitting.