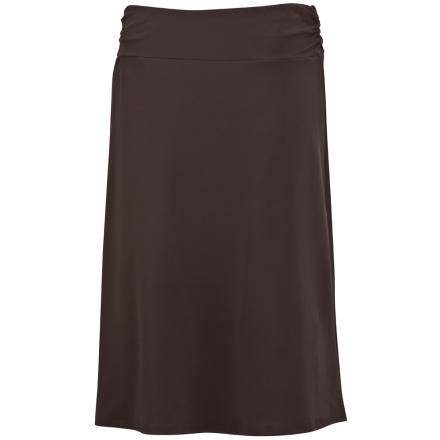 Love it! Its lightweight and very comfortable. Its winter here now, so I wear it to work mostly with tights and boots, but can easily see myself wearing it in the summer with sandals too. Perfect length...I am 5'5" and it hits just below the knee, I am a solid size 8 and a medium fits perfectly.
I had been on the great wide skirt hunt for a few months, in attempts to find the PERFECT travel skirt for our trip to Europe next year. I wanted something that wasn't too fitted, not too short. After 3 strike outs, I hit paydirt with the Ashtanga II. Once I slid it on, it felt incredible. I actually spent the rest of the day cleaning the house in the skirt because it was so comfortable.
We travel a lot and I needed skirts that are comfy, durable, easy wash, go-with-everything. Street size 8-10, ordered medium (5'7"/150lbs) Waist stays put, can wear it higher or lower on hips. Works with boots/tights or strappy summer sandals. Only thing I would change is length...currently hits mid-knee (frumpy), would prefer it couple inches shorter or longer. Will be hemming mine to top of knee for more updated look.
I bought the Ashtanga skirt a year ago, and it was a size too big. The sales rep at Backcountry and I thought that this one was the same thing, so I ordered a size smaller thank I'd had last year. BIG MISTAKE.
Whatever size you normally wear, get that size in this skirt. They've fixed the sizing issue from last year. It's a great item and the fabric seems more durable and they've put an actual elastic band in the waistband (before, it was the skirt material gathered to mimic fold-over waist skirts), so it won't get loose on you as the days goes on.
I'd give this 5 stars, if they weren't out of the size that I actually need. I know that's not the skirt's fault, but I'm still bummed.
This skirt is the bomb diggity. It's so comfortable, yet totally durable and made of substantial cotton with a nice stretch. It's the perfect length for any weather (not too short, not too long), and dries super quick.
The one downer? It's SUPER static-y out of the dryer, so I'd recommend hang drying it.