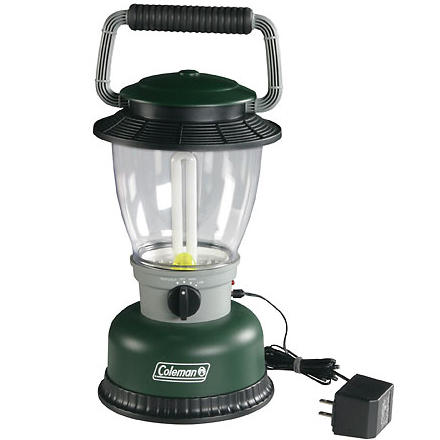 Take along the Coleman Rugged Rechargeable Family-Size Lantern on your next weekend camping trip. This rechargeable lantern's nine-watt fluorescent U-shaped bulb provides bright white light for camp setup, cooking, and playing cards. Use the 120V AC or 12V DC port adapters, which store in this lantern's base, to recharge. While the lantern recharges, an amber-colored nightlight still functions, so kids who stumble out of their bags for a sip of water will be able to see. Plug this Coleman Lantern in at home—if the power goes out, its emergency-on circuit lights automatically, so you won't be left in the dark.
Have a rechargeable coleman lantern that will not recharge. I have tried recharging in different settings (off, on) and it still does not recharge. Haven't used it in several years, but very disappointed I can't get it to charge especially since I have only used it a couple of times. Anyone know what the problem is?
Try calling coleman for a replacement bulb. 1 305 3626868 or 1800835 3278



If that does not work try getting a new battery from batteries plus .
yep, I have this prob. I plan on changing bulb. Walmart carries the bulb
Unanswered Question
What position should the dial be in when charging the lantern? (Off, low, high, nightlight)
I have this Coleman Lantern :& I have...
I have this Coleman Lantern :& I have plugged in to recharge and let it charging overnight and it still will not turn on, the only thing that works is the night light. Do the bulbs themselves burn out? If so where do I get another bulb?


Try turning it on with the charger removed. My 5312 Coleman lantern wouldn't work either until I pulled the charger out of the charge port.
Call coleman to get a bulb replacement. Yes they burn out. If that doesn't do it try getting a new battery. I was informed they no longer carry it so try batteries plus.
I've owned this lantern for about 5 years, and I would buy it again.

Pro's:

1. Very bright - brighter than any LED-style lantern I have used, it's CFL-type bulb is as bright as any in your house.

2. Batteries - built-in lead acid battery last for many hours of use and once charged can be left unplugged for weeks (months?) and still be used in a pinch

3. Chargers - both a "wall-wart" and a cigarette lighter style are included and stow away in the base of the lantern when not in use. It's awesome to be able to grab it out of the garage and charge it in the car when I decide to bug out for the weekend last minute.

4. Rugged - I've left mind out in the rain and set it in mud, still works fine. Probably not recommended though!

Con's:

1. A tad heavy, but to be fair it's design goal wasn't cross-country backpacking.

2. Harsh - the clear lens throw maximum light output, but it can be a little harsh.

3. I've heard some people say it is hard to find replacement bulbs...? Mine is still going strong after 5 years and I'm not exactly gentle with it. So...what are they doing to those things!
How do you know when it is recharged? Is...
How do you know when it is recharged? Is it when the red light goes out?
The light won't go out, just charge it for 18 hours, then unplug it.
We are going camping this week and the...
We are going camping this week and the bulb must be out... How can I order a new bulb for this Lantern??? We've been everywhere and can't find this 4 prong florescent bulb???
i do not know the specific product number for the replacement bulb for this lamp, but you can usually find that number on the old bulb or somewhere around the bulb housing.

either contact coleman customer service and have them help you or amazon.com sells a whole host of them (if you find the product number).
where can I buy a battery for my coleman...
where can I buy a battery for my coleman lantern model #5327?
Batteries Plus about 21 dollars
What is the recharge time for the Coleman...
What is the recharge time for the Coleman Model 5327A750 rechargeable lantern?
Roughly about 16 hours if it is completely dead.
can you fully charge it ........and tak...
can you fully charge it ........and tak it out to the barn with out the adapter on it....or does it always have to have this coneted to it
The cord disconnects so you'd be able to take it out to the barn without having to drag the cord with you.
Purchased this item and tested it at home and it worked just fine. When we lost power and really needed to use it, it didn't work. Ordered new bulbs (could not find in any stores, so we purchased off the internet); still did not work. Went to return it and the store had closed. Stuck with an unworkable lantern, extra bulbs and no light!
, ☃bcs_badge_alumni_label☃
These only come in one color, green.
I have had this lantern for nearly 2 years to light my way through electrical power outages. In fact, I sit here in total darkness right now except for my trusty lantern and the dim glow of a battery powered laptop. The lamp has been on high for 6.5 hours so far and shows no signs of battery fatigue yet. It throws a white light that very softly lights a decent sized room so I don't bump into furniture. If the lamp is positioned correctly I can comfortably read by it, and I can write, cook, and probably could sew by it if needed. The low setting looks much like the high setting. The night light's only value is for locating the lantern in the dark. If I am anticipating a power outage I turn on the night light before leaving home, and if I return to total darkness that handy little yellow glow tells me where I left the lamp. Both power cords store easily in the base, no headaches there. In protracted power outages I recharge the lamp from a 12V portable battery that I keep in my car's trunk. I recommend it, and I will buy another one in the future.
I use this lantern camping, outside on the kitchen table, and inside the tent, its bright, sometimes I toss a small piece of fabric over it to dull the light additionally. and has a fairly long lasting battery life. I Used it for several trips in a row before it finally ran out after a camping mission with several days of use. charger fits in the base, it is good price.
Great Lantern for inside the tent
I bought a coleman northstar for outdoors and this lantern for inside the tent. this has been a great product. I really like that it is rechargable. Not to mention that the power cords fit inside the green stand. I also like the fact that it comes with a wall charger and a cigarette lighter attachment. Great product!
This lantern is very convenient. I like that power fail circuitry. I bought it to use as an additional light for my room in Afghanistan. It is bright enough for general use but I was hoping for something the would throw a little more light. I am going to try to find a higher wattage bulb that will fit it and then I am sure that I will love it. For camping purposes this would be a fantastic tool. The low and high light levels are not different enough to notice and the night light is moderately useless. Too bright for sleeping in the same area and the power fail circuit does not apply to it. I would recommend this for the campsite. Battery life is fantastic. Much more than the box says. I can run it about 7 hours on high and I believe the box says 2.5. Have not tested it on low but I am sure it would probably run about 9 or so hours.