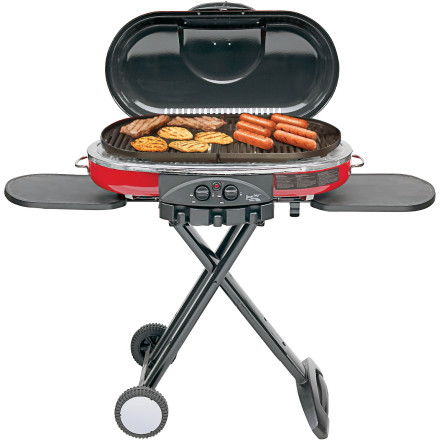 Why try to cook a gourmet campground meal on an itty-bitty backpacking stove when you can show the world the full extent of your culinary prowess on the Coleman RoadTrip Grill LXE? Whether you're frying up steaks, grilling veggies, or boiling water for hot drinks, the RoadTrip will make the great outdoors feel like your own private kitchen.
Large enough for family meals, the RoadTrip features 285 square inches of grilling space and built-in side tables for food prep
Easy-to-use, fold-up stand and wheels mean you can pack this baby in the car and hit the road in style
20,000 BTUs of power (10,000 BTUs per burner) give you faster, hotter cooking ability, even in cold weather
Push-button ignition gets your breakfast, lunch, dinner, or snack going in a jiffy
Operates on 16.4-ounce propane cylinder (cylinder not included) or adaptable to 20-pound propane tank (tank hose and tank not included)
Two removable grilling surfaces are included; additional surfaces and accessories let you mix and match your cooking options (griddle and stove adapters sold separately)
What do you think about this product?
Have questions about this product?
Unanswered Question
hi my name is bob andi would like to know...
hi my name is bob andi would like to know if i can buy a griddle for myroad trip grill
I have tried 2 different 16 oz Coleman...
I have tried 2 different 16 oz Coleman propane canisters and the colean adapter for large propane tanks and I have not been able to startbthe grill. the gas does notvseem to be getting to the burn. is ot possible that I might have set it up incorrectly?
Best Answer
Yes, it is possible.
First, make sure there's no protective packaging like a plastic or cardboard disc inside the regulator where the propane bottle screws in. I've seen that before on some stoves. If it's clear, did you make sure the regulator is on properly and that the fuel canister is threaded on tightly and upright? After you've installed the regulator and bottle with them in the 'off' position, did you turn one or both of the flame control knobs to the full 'on' position, and when it is, do you hear any gas hissing from either of them at all? Did you try to light it manually with a match at the burner instead of trying to use the piezo? If you did all that, you might have some sort of obstruction in the fuel line, a bad regulator, or the venturi isn't set right, but my bet would be that either the regulator or canister isn't installed properly. If all else fails, call the 800# that Coleman lists on page 1 of the manual.

If you get it fixed, let me know what the problem was for future reference.