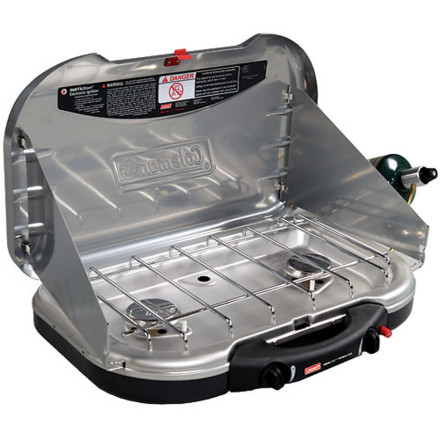 Whether you're on a cross-country road trip or enjoying the sights and sounds at a nearby campground, the Coleman PerfectFlow InstaStart 2-Burner Stove makes whipping up a gourmet dinner as easy as it is at home.
Push-button lighting system means you can save your matches for lighting the campfire
Two, independent, fully adjustable burners each put out 11,000 BTUs of heat (22,000 BTUs total)
PerfectFlow pressure-control system provides a steady flow of gas so your food cooks at an even temperature
WindBlock system shields the burners to save fuel, and the guards adjust to accommodate various pot sizes
Heavy-duty nickel and chrome stove grate is removable for easy cleaning
One Coleman propane cylinder (not included) lasts one hour with both burners on high and 4.5 hours on low
What do you think about this product?
Have questions about this product?
I purchased this stove for canoe camping. I expected this Coleman product to be good quality, but I was really disappointed. It is flimsy. The pieces to hold the cover open need to be squeezed to stay in place, and they aren't sturdy enough to last long. The red plastic latch to open and close the stove feels like it will break. The stove does not shut tightly. There's a drain hole in the bottom of the cooking area, which doesn't make sense after all because there's no way to clean out that drainage area without removing a dozen or so tiny screws. Returned this item and will order another brand.
Unanswered Question
What is the packed size? I presume the...
What is the packed size? I presume the dimensions 21 x 12.8 x 14.25 are the unfolded size.
Write your question here...Can this be...
Write your question here...Can this be used inside in emergency as long as well ventilated?
Best Answer
The official owners manual says not to:

http://www.coleman.com/coleman/images/pdf/5466A.pdf

However, I have used it through a few hurricane power outages in my kitchen which was big enough that perhaps doesn't fall under the definition of "enclosed area." I think big rooms will probably be OK. Definitely not in a camper van or a tent though.

I hate to give bad advice so I feel like I should point out that while I have done exactly what you're asking can be done- nobody ever accused me of being brilliant. Take it for what it's worth.
Aaron included all the right caveats, but really, don't use it inside. People die that way, and carbon monoxide is odorless and colorless.