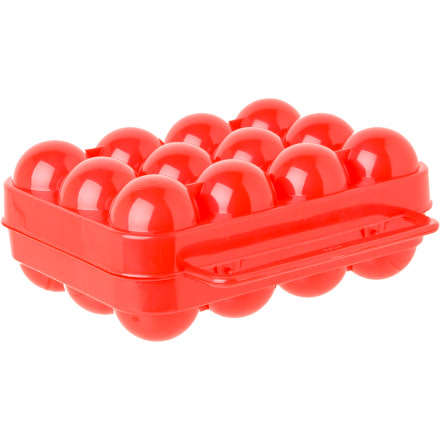 Detail Images
Fresh eggs can keep for days with minimal refrigeration, so stock up on some for your next backcountry outing and store them in the Coleman 12-Count Egg Container. Excellent for use in coolers, too, this container safeguards a dozen eggs so you can impress your hungry crew with omelettes for breakfast.
When you want to bring eggs but don't want to clean up yolks out of the cooler the morning after, problem solved. we've had zero broken eggs since we've gotten one.
No one likes a mess of yokes, buy this to avoid that problem
Does the lid come off or is it attached...
Does the lid come off or is it attached at one side?
Best Answer
Hey Teresa,

The lid is hinged with little plastic tabs. You can see it in the detail thumbnail pic below the main product photo. Viva los huevos.
This is great for carrying around and camping, keeps the eggs safe and is really lightweight. A must have for camping.
If you are going to bring eggs...
If you are going to bring eggs... please don't put your egg carton into my cooler!
Functional way to transport eggs.
Your gonna have to work for them
Bought this based off a dare before a weeklong Bwca trip. Probably not a great idea for backpacking or portaging for that matter but I made it through with my eggs and only broke one. I did dry sack them and laid a single sheet of paper over them to avoid jiggling. Oh and I used medium eggs as I read that they're stronger since there is less volume and supposedly harder shells. Anyway it was a good 4$ for the heck of it. I know my buddies thought twice about giving me a hard time before breakfast.
Typical 12 count egg crate. Protected the eggs for a week long east coast journey in the cooler, not one broken over the journey. It was nice to be able to pack other food items in on top of the eggs and not worry about crushing them.