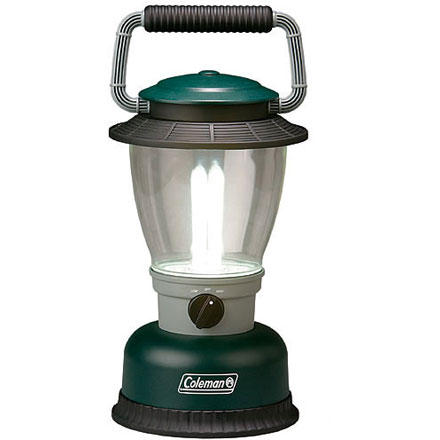 Coleman's Rugged Full Size Lantern does more than just handle rambunctious family camping—it welcomes it. Coleman designed this lantern to survive wind, rain, and clumsiness—the shatter-resistant exterior puts up with mild abuse. Insert eight D batteries, and the Rugged Full Size Lantern throws out bright, white light with its 13-watt fluorescent twin U-tubes. A quick-release system lets you replace the bulbs quickly.
What do you think about this product?
Have questions about this product?
I recently purchased this lantern for a week long car camping trip in the Tetons. While I like the retro styling, I just wasn't that impressed with the lantern. On the plus side it is decently bright and didn't fail during the trip. On the negative side this thing is huge; it takes 8 D batteries so it has to be big. Also, 8 D batteries are not cheap and will only power the lantern for about 18 hours. While big, the construction does not feel that sturdy like the name might suggest.

Right before the trip I also picked up the Rayovac Sportsman Extreme to test the two lanterns. The Rayovac is awesome. It is easily a third the size of the Coleman and brighter than the Coleman. It takes 3 D batteries and will run for 72 hours on high. The construction is very sturdy.

Backcountry - if you are going to stock this lantern you should also add the much better Rayovac.
where can you obtain u-tube 13 watt lantern...
where can you obtain u-tube 13 watt lantern light bulb?
John,Found one for $16.00 at the link below.www.summitcampinggear.com/co13wufor53.htmlOr call Coleman directly at 888-732-5663. They make replacement parts for lanterns made in the 1920's and beyond.