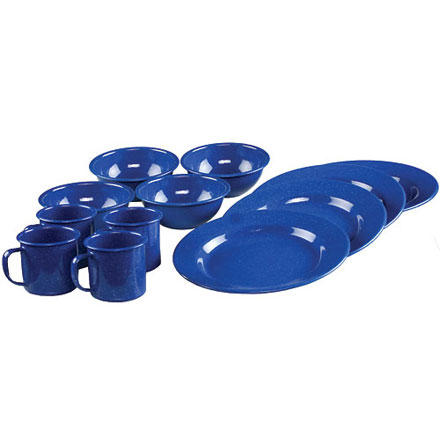 The Coleman 12-Piece Dining Set lets you enjoy a meal like a civilized person while you camp. With four plates, four 10oz coffee mugs, and four six-inch mixing bowls, you and your family can dine on everything from cereal to hamburgers. These dishes are durable and dishwasher safe.
Share your thoughts
What do you think of the
Coleman
12 Piece Dining Set
? Share a...
Gets the job done at a pretty good price
I got this set for a friend right before a big camping trip and it has held up so far. Definitely better than using paper and creating more waste. I would recommend to anyone for car/cabin camping is the set is a little heavy for backpacking.
Not what I expected from Coleman
Received my second shipment (first was returned), this time the enamel was chipped all four cups. When I opened the box there was pieces of chipped blue enamel all over the box and on my table.

I have been buying Coleman products for years and this is the first time I've been disappointed.
We needed some strong,lightweight plates,cups and bowls for our camper and these are perfect.Easy to store and able to withstand the "roughing it" of camping.We were able to leave them soaking after meals for washing later and they dry in no time.The rolled edges should help minimize any cuts to fingers.Great alternative to papers and plastic and will pay for themselves after a few camping trips.
I am looking foir the enamelware in a light...
I am looking foir the enamelware in a light green color (not forest green). I saw them at Bass Pro Shops in Vegas but can't seem to find them anywhere else for sale. Does anyone have any info on them? They are exactly like the blue speckeled type that are popular only in a light greenish yellow color. Thanks
Looks like all they have here is the blue. I would just Google it and specify the color in your search and that will give you the best results.
Yes, but these aren't Lexan. These are enamelware.