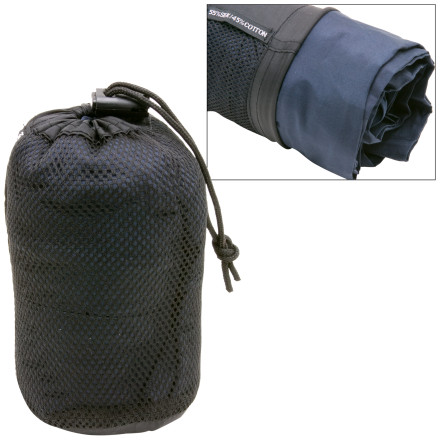 Sleep by yourself in the sealed Cocoon Travelsheet Couplers, or un-zip it to share as a blanket with a sleeping partner. This Travelsheet carries onto airplanes, or stuffs easily into a backpack for on-the-go convenience. Stuff your pillow into the Cocoon Travelsheet Couplers' special pocket to keep your pillow from wandering into less-than-sterile hotel, hostel, and friends' living room floors. When you and your significant other want to sleep together, just zip two Travelsheet Couplers together for a quick bed for two. The Cocoon Travelsheet Couplers are available in pure silk, or a silk cotton blend fabric.
A decent cocoon sheet
Familiarity:

I've put it through the wringer
One of the main reasons I chose these sheets over the others was because of the fact that you could 'couple them up' and zip together. I thought, 'What a great idea when I'm sharing the bed with my husband.' Well, it's a silly idea in truth because when you're traveling to a hot climate being stuck tight in a cocoon is not ideal. However, it was really nice to have the option to unzip the sheets entirely. We purchased the silk sheets and I believe that they were the better choice for our hot climate trip over cotton for the fact of keeping you cooler, and if you end up with a sunburn, bug bites, etc these sheets do not feel harsh on your skin. I do think the price is excessive (and this goes for all these cocoon sheets) for the fact that all the product really is is a silk or cotton sheet with a small stuff sack. Plus, the quality of the sheet wasn't superb for the price- both our sheets starting to fray along the zipper. The fraying didn't make the sheets malfunction (other than get caught repeatedly in the zipper) but like I said it made it feel like a poor quality for the price.



We traveled in Indonesia with these sheets for 2 months. We used them more often than not. Bringing a travel sheet is something I'd highly recommend on a trip like that, and this particular sheet did the job. However I would not buy it again. I do think if you go ahead and choose to purchase a cocoon sheet this coupler/zipper style of cocoon sheet is better than the others and worth the extra few bucks for the added function.

In regards to size it easily fit my husband who is 6'2" and 185 lbs when zipped into a cocoon.
Unanswered Question
Is this the 100% silk version or the blended...
Is this the 100% silk version or the blended silk/cotton version? The website is very unclear about this.
Just ordered these for a upcoming trip to Bali and I was pleasantly surprised by the size and spaciousness of the cocoon. I'll wait to see how it keeps out the little buggies but for the most part it feels really breathable and really comfortable.
When stated dimension are 86x33 inches,...
When stated dimension are 86x33 inches, does it mean when unzipped, it is 86 x 66 inches?
Me and my girlfriend just bought 2 of these for fun. They actually zip together making one big space. Super light and soft we are using one right now on the bed for summer sheets.
The bag is a little tight though and flimsy. I would imagine day after day of stuffing this would render the bag useless in a few months. Though maybe another small sac would do the trick!
Also comes with a spot pre-stiched for a pillow ohhh ahhh he don't knock it ever had you pillow taken in the night!