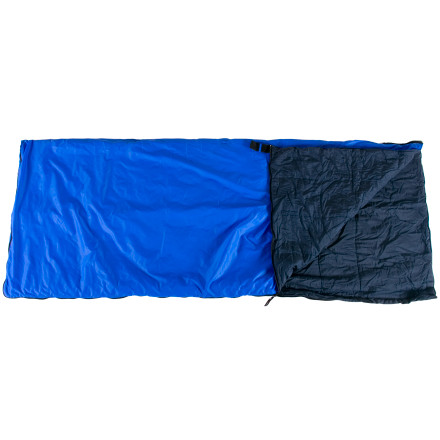 Cocoon created the Silk Tropic Traveler 45 Degree Sleeping Bag to help you sleep comfortably in hot, humid conditions that other bags just can't handle. Its ability to breathe and manage moisture makes it a perfect companion for the tropics.
Silk cotton blend lining feels comfortable next to your skin in warm conditions where nylon just feels gross
Lightweight Polarguard HV synthetic insulation makes the bag just right for a night spent sleeping on the beach
Two-way YKK zipper lets you vent the bottom for comfort
Compression stuff sack stories the bag for travel
What is the packing size and weight of...
What is the packing size and weight of this bag? I am looking for something for a backpacking trip to several different countries with warm to very warm tropical climates. Want to be prepared for indoor and outdoor tent sleeping. Most important thing to me though is that the the size is compressible and doesn't take up a lot of room in my pack.
Best Answer
Hey kst5556641,



Thanks for your question.



The weight of this bag including the stuff sack is 890 grams (2 pounds), the stuff size of this bag is 33 x 16 cm (for the regular). The long is 970 grams and packs down to 34 x 17 cm.



I hope this helps.
Sapphire Rucksack +1
Familiarity:

I've put it through the wringer
Decent for what its meant for. I used it on my hammock outside in equatorial/tropical climates. The fabric is very comfortable and after using a mummy bag for so long, the rectangular shape is a welcome and roomy change. Unless the temps are down below mid 60's F, I find myself sleeping with this bag mostly unzipped. I'm 6' and the long version has more than enough room. That said, after about a month of semi-regular use, I started to notice tons of loose threads / seams. For this reason I will be returning it, as it doesn't seem like it will stand the test of time.
I use this silk bag (tall) with my Clark hammock and my sleeping kit comes in well under five pounds, total. I don't have to worry about compression of the insulation with silk and it'll keep me snug down to about 35° or 40°(F) in the hammock with the WeatherShield in place. Allot of the time I'll just lay on top in the warmer climes and use a simple silk sheet over me. As another poster mentions, the bag can be kinda tight around the shoulders. I'm 6'6", 240lbs so I don't move around much when inside it. Overall it's a very comfy bag!
I will be hiking 500 miles in June across Spain on a pilgrimage so I needed a lightweight bag that was big enought to be comfortable for a month and wanted a zipper for when it was hot. This bag completely meets my needs. I would add 4 inches to the width to make it perfect.
www.flight-around-the-world.org
After searching and searching this bag is the perfect one to travel light in warmer climates. In our flight around the world we cannot take many weight nor a big volume with us. We like its smooth feeling and that it can be used with a travel sheet, which means you do not have to wash the bag too often. Its small size is great. The stuffing bag is just a little bit too small, otherwise great quality.
Unanswered Question
Need a light weight sleeping bag sleeping...
Need a light weight sleeping bag sleeping outside in Tanzania - have to make it fit in the one bag we are allowed. How small can I get this bag?
can i zip two of them together into one...
can i zip two of them together into one sleeping bag for 2 people?
I read this on protravelgear.com: "mate it with a TravelSheet Coupler to form a luxurious sleeping bag for two." Hope this helps...
I use my bag for motorcycle/car touring. At a BMW motorcycle rally this year it worked great - warm in temps down into the 50s, packs small and feels better than nylon. Only complaint is I find it a little snug around the shoulders, a very minor niggle, I'd definitely recommend it for warm weather!